Ecuador removed from list of countries that do not combat money-laundering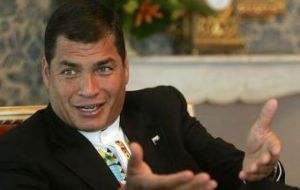 Ecuadorean President Rafael Correa said on Friday his country had been removed from an international blacklist of countries who fail to comply with standards against money-laundering and terrorism financing.
The Financial Action Task Force, or FATF, an international organization of governments and regional groups, in February named Ecuador alongside North Korea and Iran as risks to the global financing system.
Correa had blasted Ecuador's inclusion on the list as "perverse" and said it was a hypocritical punishment for the Andean nation's ties with Iran. He said officials had been informed of the decision to remove Ecuador from the list on Thursday.
"They have sent us a message. It was absurd. Yesterday they told us they had decided this in Amsterdam" Correa said at a summit of leftist leaders in the Ecuadorean city of Otovalo.
The group placed Ecuador on the list because it said Quito was not committed to upholding global standards for combating money laundering and the financing of terrorism.
Ecuador protested its inclusion and countered that it had received international praise for its measures to regulate its financial system. The country's association of private banks had said it was "deeply worried" by the measure.