Boosted by agriculture Paraguay set to expand 6% in 2010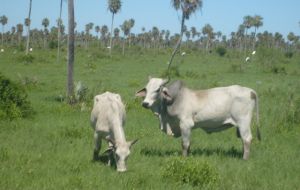 Paraguay expects an annual growth of 5% by the end of President Fernando Lugo's administration which finishes in 2013 and inflation should not be higher than one digit said Economy Minister Dionisio Borda.
In 2010 the economy is set to expand 6% in contrast with last year's contraction of 3.8%. Boosted by agriculture, the country's main export industry, the economy grew a remarkable 10.9% in the first quarter of this year.
Borda made the announcement following on Monday's ministerial cabinet meeting when he also revealed the target of cutting by half the number of poor and living in indigence, by 2013, when the former bishop-president must step down.
Currently four out of ten Paraguayans are classified as poor and almost two, live in indigence.
The government's target is to cut poverty to 20% and extreme poverty to 10% of the 5.6 million population by 2013, said Borda who also announced a higher and fairer fiscal pressure.
Fiscal pressure measured as revenue GDP percentage stood at 12.7% at the end of 2009 and it is forecasted to reach 13.1% by the end of 2010.
Borda complained about what he described as Congressional 'interference'. Congress is dominated by the opposition and the government is working out a political understanding to have the budget and other stalled issues approved.
"There's an excess of attributions, and we must remember that mid term development does not depend exclusively on government resources but rather the confluence between political, economic and social players", said Borda.
The minister added that in spite of the robust growth, which should help government revenue, the Lugo administration will continue to need funding and credits to finance what he described as a 'bloated" budget.
"The financial program is crucial and we must be most prudent with budget outlays expansion", underlined Borda.
Some opposition members are demanding more aggressive and in depth economic reforms to achieve greater fiscal efficiency and transparency. At the other end some lawmakers claim that most of the country's production resources are in the hands of multi-national corporations.
Land-locked Paraguay is the world's fourth exporter of soy beans and sixth producer. This year's harvest with plenty and adequate rainfall is estimated to reach a record 7.4 million tons.