Lion's share of the drugs business goes to final distributors, says UN expert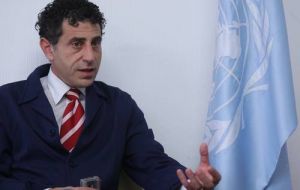 The lion's share (85%) of the gross profits from the cocaine business between South America and the United States ends in the wholesale and retail distribution network in the US according to Antonio Luigi Mazzitelli, head of the UN office on Drugs and Crime for Mexico and Central America.
In 2008 those profits totalled the equivalent of 35 billion US dollars of which 29.5 billion went to 200 wholesalers, 6.000 middlemen and thousands and thousands of retailers, whose number is difficult to estimate said Mazzitelli.
Those in the last links of the distribution chain make the "most benefits", but are also most exposed to arrests as well as kidnapping or victims of rival gangs.
According to Mazzitelli the Andean farmer, whose crops helped refine 310 tons of cocaine ends up with 500 million US dollars while the middlemen who trade with the coca leaves make another 400 million USD.
The following link is the Colombian middlemen and the powerful Mexican drug lords that together make an estimated 4.6 billion US dollars, taking 2008 as a reference.
"The Mexicans who control the border and crossing into the US, and shipping the stuff from Central America to the US, including the Mexican market (estimated in 400 million USD) and Canada, manage to profit with 2.9 billion US dollars.
From then on and inside US territory the wholesalers make an estimated 5.3 billion while the middle men and the thousands who peddle the drug in US streets, take the remaining 24.2 billion US dollars.
These drug dealers working in the US market an estimated 196 tons of cocaine, while the rest is absorbed by other markets along the way or is confiscated by law enforcement officers.
"The main profit from the drug business remains at the end market, the closest possible to the final distributor and consumer", said Mazzitelli.
The UN official also points out that data on confiscation volumes, market values and other variables held to understand the business and "reduce the myth of the economic and financial power of the drugs' cartels".