China and South America crucial for globalized General Motors recovery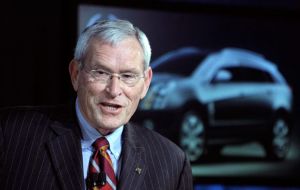 General Motors CEO Ed Whitacre Jr. told analysts Tuesday that the automaker has changed since bankruptcy from a "shell-shocked" and "overly complicated company" to a sharply focused one that has a clearer sense of its global strengths and a passion to win back customers in the United States.
"We're selling more vehicles today with four brands than we did a year ago with eight brands," Whitacre said at GM's Warren Tech Center where senior management gave a state of the company presentation to investment analysts.
"We have reduced our inventories. We have increased our average transaction price. And we have increased our capacity utilization to 85%."
But the early speakers – Tim Lee and Jaime Ardila, presidents of GM International Operations and GM South America, respectively, -- emphasized the importance of building on growth outside the United States.
In China, now a larger market for new light vehicles than the United States, GM held slightly more than 13% of the world's largest new vehicle market in 2009. From a record 13.7 million vehicles last year, Chinese consumers are expected to buy about 16.5 million for all of 2010.
GM is currently the third largest automaker in Brazil, which surpassed Germany in 2009 as the world's fourth largest market. Last month, GM said it will invest more than 400 million USD in a family of three new cars designed for the Brazilian and other South American markets.
There is evidence that the company is getting stronger in its home market, too — most notably the 1.2 billion USD pretax profit GM earned in the first quarter.
While Mark Reuss, GM's North American president, would not say specifically how many fewer vehicles the company needs to produce to be profitable compared to a year ago, he boasted that it is significantly lower.
"We are at about $3,000 more per vehicle than a year ago," Reuss said. "Incentives are about 1,200 lower than a year ago. Inventories are about 400,000 units, about half of what they were a year ago."