Crucial natural gas pipeline opens in Patagonia to help energy short Argentina
Wednesday, June 30th 2010 - 06:22 UTC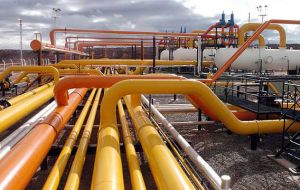 Argentina will inaugurate Wednesday a key new pipeline bringing natural gas from Tierra del Fuego Province to the neighboring province of Santa Cruz. The Strait of Magellan pipeline will initially transfer 5 million cubic meters a day of gas from Cabo Espiritu Santo in Tierra del Fuego Province to Cabo Virgenes in Santa Cruz.
"Within two years the pipeline will transfer 18 million cubic meters a day to Greater Buenos Aires," Planning Ministry spokesperson Horacio Mizrahi said earlier this week.
The pipeline, which is the biggest of its kind to be built in three decades, is a significant step forward in Argentina's bid to ease an energy crunch as the demand for natural gas outweighs its domestic supply.
The gas-rich province of Tierra del Fuego has major reserves but has been unable to transport them to the rest of the country because it lacked the infrastructure.
Eventually the 37.7-kilometer, 24-inch pipeline will be able to transport as much as 24 million cubic meters of gas per day, according to gas regulator Enargas.
The pipeline should help transport gas around Argentina and eliminate the need to import expensive liquefied natural gas from Trinidad and Tobago. Argentina also imports natural gas from Bolivia.
A year ago, the government announced that a consortium including Allseas Group and Royal Boskalis Westminster NV had won the right to build the pipeline.
The pipeline will allow Argentina to increase its on and offshore natural gas production in Tierra del Fuego at a time when gas shortages have forced the government to ration gas during periods of peek demand.
Argentina's energy infrastructure is heavily dependent on natural gas. Demand has surged in recent years amid booming economic growth, but proven reserves of oil and gas have declined steadily, and no new major discoveries have been made in 15 years.
The government began rationing gas in 2004 and has cut gas to certain companies every year since. It also underwent a diplomatic spat with Chile for privileging domestic demand and ignoring long term provision contracts with the neighboring country.
Chile has since constructed a liquid gas re-gasification plant and is finishing a second making the country no longer Argentina gas-dependent. Furthermore Chile has offered Buenos Aires that the same gas pipelines could be used to supply Argentina.