Falklands MPA will undergo six months of resurfacing; air bridge confirmed
Wednesday, June 30th 2010 - 05:41 UTC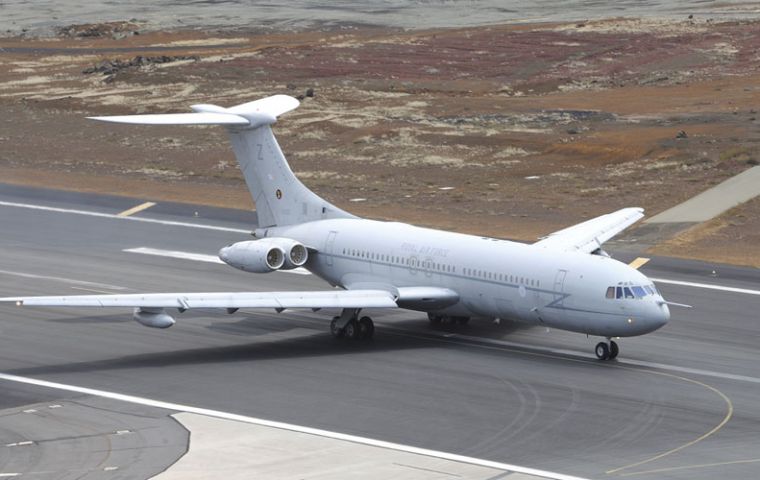 Two Boeing 767-300s have been confirmed as the aircraft to be used for the South Atlantic Airbridge linking Brize Norton in the UK with the Falkland Islands while the Mount Pleasant runway is being resurfaced later this year.
Engineering company COLAS has been contracted to carry out the work between September and the southern hemisphere autumn of 2011.
The 25-year-old runway and some taxiways are to be resurfaced. However, an operating window for large aircraft will open each weekend throughout the project.
Work will cease on the runway each weekend to allow the UK airbridge and Saturday LAN flights to operate and the full South Atlantic Airbridge will continue to operate on a restructured schedule for both passenger and freight flights.
Nevertheless an MPA military spokesperson said everyone in the Falklands should be reassured that throughout the project's life the Quick Reaction Alert aircraft and Search and Rescue helicopters would continue to be in position to launch at any and all times.
He said: "In short, British Forces South Atlantic Islands will be able to operate its full military capability including air defence".
According to the Colas Company, the Airfield Division has secured a multi million pound project to refurbish the airfield at Mount Pleasant Airport. The project is the first major refurbishment of the airfield since it was constructed in 1985 and is planned to coincide with summer in the southern hemisphere.
Works will include refurbishment of all the asphalt surfaces, replacement of all airfield ground lighting together with specialist surface treatments and civil engineering.
Significant resources and logistics will be required to complete the project which is 13,000 kilometres from the UK including the mobilisation of up to 100 people, two of Colas's own mobile asphalt plants, concrete batching equipment, planers, pavers and rock cutting equipment.
Colas' own Warrington plant shall supply the entire bitumen and bond coat required for the project which will be shipped to the Falkland Islands to meet the construction deadlines.
Key factors in securing this contract have been Colas' previous experience and understanding of successfully undertaking major airfield works in challenging locations, technical capability together with the strength and resource of the International Colas Group. (Penguin News & Colas).-