Argentina and Venezuela with highest (and climbing) inflation in South America
Monday, July 12th 2010 - 03:52 UTC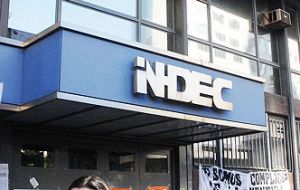 While most of South America is undergoing a deceleration of consumer prices Argentina and Venezuela are the only countries to experience a significant increase in inflation, making it one of the main concerns or public opinion.
On average in the first half of 2010 in most South American countries inflation was in the range of 2% (in Uruguay it's 3.09%) which contrasts with Argentina and Venezuela.
In Argentina according to the controversial percentages managed by the Kirchner intervened Indec (Statistics Office) inflation between January and May reached 5.1%, however private estimates argue that it's much higher and that in the first six months it was above 10%.
Prospects are not encouraging since after a relatively quiet second quarter, in Argentine terms, an avalanche of price increases are expected for the second half given the recent round of salary agreements.
The only comfort for Argentines is that the situation in Venezuela is worst. In June inflation in the land ruled by President Hugo Chavez reached 1.8% (lower than the 2.6% for May) but in the first half of the year accumulates 16.3% and 31.3% in the last twelve months.
This makes Venezuela the country with the highest inflation in the region for the fifth year running in spite of a strict government control of prices and the foreign exchange rate, effective since 2003.