Brazil's automobile production in first half soars 19.1% over a year ago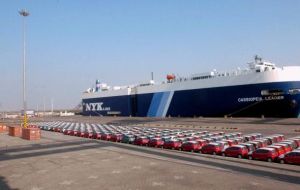 Brazil's automobile production increased 19.1% in the first half of the year compared to the same period a year ago and exports soared 62.3% according to the Brazilian automakers association Anfavea.
According to the Anfavea in the first half of 2010 car production reached 1.753.000 including trucks and buses.
In June the Brazilian industry rolled out 306.035 units which is 7.7% above the same month a year ago but 5% less than in May 2010.
Domestic sales, however, rose in June, climbing 4.6% to 262,800 units from May, Anfavea said. Sales had fallen 9.6% in May from April. Sales fell from a year earlier, tumbling 12.5%, Anfavea said.
Employment in auto plants in June totalled 130.096 which is 0.9% higher than in previous month.
Regarding exports, the first six months of the year represented 5.7 billion US dollars which is 62.3% higher than the first half of 2009. Exports in June totalled 63.074, which is 62.5% higher than a year ago but 13.6% less than in May.
Brazil is a major market for global automakers such as Italy's Fiat, Germany's Volkswagen AG and U.S.-based General Motors Co and Ford Motor Co.
Fiat maintained the top spot for sales of vehicles excluding trucks and buses, Anfavea said. The Italian make sales rose 9.5% to 60,164 units in June from May. Volkswagen followed with sales of 52,245 vehicles, a 4.3% drop from May.
GM sold 49,043 units compared with 46,526 vehicles in May. Ford sold 24,440 vehicles, a 22% increase from 19,984 vehicles it sold in May.
Regarding tractors and other farm vehicles output in the first six months totalled 43. 790 units which is 54.1% higher that the first half of 2009.