Massive demonstration in Argentina to protest same-sex marriage bill
Wednesday, July 14th 2010 - 05:14 UTC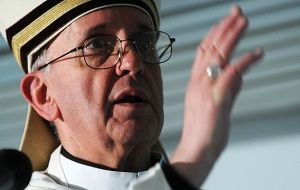 Argentine Catholic and Evangelic organizations protested the same-sex marriage bill in a demonstration held in the heart of Buenos Aires at the Congress square under the motto "Kids have the right to have a mother and father."
The massive Tuesday demonstration was organized by the Lay Department of the Argentine Episcopal Conference (DEPLAI), the Christian Alliance of Evangelic Churches (ACIERA), the Pentecostal Evangelic Confraternity Federation (FECEP), and self-convened families that were joined by representatives of the Muslim and Jewish communities.
"We're not against any community, but we want to be clear: marriage is between a man and a woman, and children's rights -to have a mother and a father- cannot be violated," one of the organizers explained to media.
He also said that the same-sex marriage bill is "totalitarian" because it proposes "all or nothing" and "it does not allow the possibility of debating what is right and what is wrong."
The demonstration began at 6:30 pm on top of a stage set up in front of the Argentine Congress, with orange ornaments, signs, and posters, and it was replicated before legislations or government headquarters throughout Argentina.
"It is a protest of citizens with positive slogans. The goal of the demonstration is not to taint it in any negative way, but to propose and promote marriage in the way we understand it, between a man and a woman, and express our rejection to the project that was approved in the Lower House," the executive director of DEPLAI, Justo Carbajales, said.
Carbajales had asked protestors to carry Argentine flags or signs with positive slogans and to promote man-woman marriage.
The demonstration was also the beginning of an awareness campaign in favour of a "responsible vote," which would consist in supporting politicians that "promote marriage, family, and human life, as well as social inclusion and education for all."
Over the weekend, in all Buenos Aires City churches, the Episcopate declaration regarding "The inalterable good of marriage and family" was read at the end of all masses, in which the same-sex marriage bill is rejected.
Cardinal Primate of Argentina, Archbishop Jorge Bergoglio who has aired strong discrepancies with the two Kirchner administrations had anticipated a strong campaign if the government and Congress did not review their position on the same-sex marriage.
In related news the archbishop of Córdoba, Carlos Ñañez, sanctioned priest José Nicolás Alessio with the prohibition of offering mass and marriages due to his position in favour of gay marriage, according to the Argentine Catholic Informative Agency (AICA).
The Inadi anti-discrimination watchdog summoned people from all over the country to participate in what they call a "ruidazo," a demonstration based on making noise and banging objects "for equality," from 8 to 8:30 pm in support of same-sex marriage and adoption.