Stamp release on wrecks and hulls depicts South Georgia's whaling history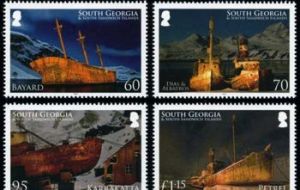 A set of four stamps featuring some of the wrecks and hulks around South Georgia Island shores in the South Atlantic was released on June 25th. The release date was chosen to coincide with the midwinter full moon. The photographs used on the stamps were taken by Thies Matzen, who also wrote the text below, which was published in the June edition of the South Georgia Newsletter.
There are over sixty wrecks and hulks around South Georgia, most of them scuttled and sunk, some still visible. Except for a submarine and two modern fishing vessels, nearly all took part in the sealing and whaling industries.
The South Georgia wrecks and hulks fell victim to uncharted waters, unpredictable weather, and - at the end - to the decline of the whales. Catching one's eye in the vicinity of the former whaling stations some appear now to be taking a long winter's rest. To best portray this solemn sleep the vessels were photographed in winter at full moon.
The two riveted, iron-hulled, three-masted sailing vessels "Brutus" and " Bayard" served as coaling hulks: "Brutus" (built 1883 in Glasgow, 76m long, 1686 tons) in Prince Olav Harbour, the "Bayard" (built 1864 in Liverpool, 67m long, 1335 tons) in Ocean Harbour. At the beginning of South Georgian whaling, prior to WW1, such cargo vessels that were exclusively propelled by wind became redundant world-wide, and were cheap to buy.
Once purchased, "Brutus" was loaded with coal and then towed from Cape Town to Prince Olav Harbour by four whale catchers. A century later, as seen on the First Day Cover, she is still placed where she was deliberately beached, off Pig Point, slightly tilted, with only one of her original three masts standing.
Forty nautical miles [74 km] to the South East, in protected Ocean Harbour, that extraordinary epoch of sail can still be sensed in the present posture of "Bayard" (60p stamp). On June 6th 1911 she was moored at the coaling pier at the north side of the bay when a severe gale caused her to drift across the harbour on to rocks. Today a near complete cover of tussac grass and a colony of blue-eyed shags occupy her decayed decks, which once - in an earlier life - used to regularly carry Indian labour to the South Seas or the West Indies.
The much smaller vessels, "Karrakatta" (95p stamp), "Petrel" (£1.15), "Albatros" and "Dias" (70p stamp), carry a less worldly air. The first three were whale catchers, two later sealing vessels – in the case of "Dias" solely as a sealer - they stood at the core of South Georgian modern whaling and sealing industry. The catchers carried the gunners to the grounds to find and harpoon the whales. They towed the carcasses to the whaling stations.
The prominent "Karrakatta" in Husvik was built 1912 in Norway's Akers Mekanisk Vaerksted, as an early type of vessel whose hull shape changed very little over the years. Most of the whale catchers measured between 32-35m long and had narrow, easily driven hulls. Capacity varied between 178 and 245 tons, increasing as time went by to accommodate more powerful engines.
At the end of each whaling season, when the stations reduced to a small maintenance crew for the winter, these catchers used to be left in South Georgia's more sheltered bays. Close to their respective stations they were moored alongside each other, separated only by huge fenders, heavy hawsers secured them to the shore against the winter storms. When whaling finished in 1965 these highly specialised vessels had outlived their purpose and many were scuttled off South Georgia.
"Karrakatta" escaped this fate. She had early found an ingenious calling as a coal-fired boiler. Just beyond a small headland, that separates Husvik's whaling station from its two slipways, she had been hauled out of the water on slipway number one. From there her steam boiler would power the adjacent engineering workshop that maintained the fleet on slipway number two. A square entrance cut into her iron hull allowed access to her boiler room and a lagged pipe – still visible - carried steam to the nearby buildings.
Of all vessels associated with South Georgia's whaling or sealing, "Dias", "Albatros" "Petrel" were the last to remain in service. They are among Grytviken's major maritime remnants in what used to be a busy harbour. While working as sealers it was usually one of these that lent logistic support to scientific programs as well as establishing Bird Island's scientific station. Sometimes they maintained the link to the Argentine meteorological station on the South Orkney Islands. Living conditions aboard were said to be the roughest imaginable, with continuously wet bunks and virtually no ablution/washing facilities for weeks on end. To their last days they were skippered by Norwegians such as Captain Ole Hauge, who had an unrivalled knowledge of South Georgia's vicious, uncharted waters. For decades the skills of men like him assured their return to Grytviken. After whaling finished the abandoned vessels became over laden with snow and sank at their moorings during a particularly severe winter.
For many years "Dias" and "Albatros" formed a dynamic pair of criss-crossing masts and crow's nests at the jetty. During the major redevelopment of Grytviken's whaling station in 2004 they, with "Petrel", were hauled ashore. These days their bows are surrounded, not by water, but gravel and stones, which, beneath the winter snow, might be imagined as being ice.
These and other South Georgia stamps can be purchased from the Philatelic Bureau, Falkland Islands http://www.falklandstamps.com.