Cold wave in Argentina forces shutdowns in gas powered industries
Friday, July 16th 2010 - 07:58 UTC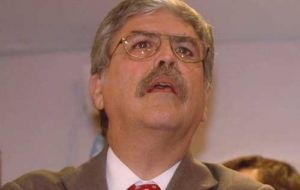 The cold wave in Argentina has killed at least five people, forced the closure of highways and left most of industry short of gas given the soaring residential consumption.
Argentina's Meteorological service said Thursday that "the wave of cold air of polar origin is affecting the entire Argentine territory," with temperatures in Patagonia of down to minus 11 C and in the country's central and northern areas down to minus 5 C. The cold wave is expected to last with different intensity until next Tuesday.
Meanwhile, snowfall was reported Thursday in at least twelve of Argentina's 24 provinces including some unexpected spots such as the Atlantic seaside resort of Mar del Plata. The lowest temperature was recorded in the highlands of Jujuy, next to Bolivia, minus 22 C.
The Argentine highway administration said that snow had been falling heavily since Thursday morning in a broad swath of the country, blocking roads and causing accidents in numerous spots.
The forecast is for "icy and very cold (conditions) with frost" to last at least until Saturday. Meanwhile, in several parts of the region the strong possibility exists for both hail and sleet.
Cold weather also worsened the operational conditions for Argentine manufacturing with companies already exposed to a 50% supply cut, informed that the service will be formally cancelled, as long as the situation persists.
The Argentine Industrial Union, UIA, in a release expressed the "strong concern" of its associate chambers given the significant reduction in gas supply.
The restrictions are communicated via e-mail by major distributors, following on government instructions that have to inform their industrial clients the magnitude of the restriction: from a percentage to ensure minimum production (keeping furnaces operational) to the full cancelling of the service.
"Until Wednesday the gas supply cuts were capped at 50%, however big industrial consumers have been informed that until Friday included, cuts will be total", said a member from the UIA board.
However information from local chambers in several provinces in the fields of metallurgy, cement, ceramics and even food industries report "they have already suffered the 100% cut".
Rationing energy in Argentina has been a problem in recent years as demand for electricity and gas has outstripped production. The gap between supply and demand typically manifests itself during periods of peak demand in winter and summer.
Planning Minister Julio De Vido, Argentina's energy czar, said recently that Argentina has no energy problems.
Analysts, however, say the problems are constant and that rationing gas every year is evidence of failed government policies. Critics, including a group of eight former Energy Secretaries, say the problems stem mainly from excess regulation and price caps that deter investment in exploration and production.
Because of the price caps, energy is cheaper in Argentina than in most neighboring countries. This means consumers pay little attention to consumption patterns, boosting excess demand. Meanwhile, booming economic growth has led to increased demand from industrial companies.
Government officials say low utility rates keep the cost of living down and help make Argentina's economy more competitive compared with other countries.
According to the natural gas regulator, 125 million cubic metres of gas are injected daily to the Argentine network. However when very cold days as expected until at least Saturday, residential and small businesses demand soars to 90 million cubic metres which means there is a supply shortage of 20 million cubic metres if industry restrictions are included, says former Energy secretary Jorge Lapeña.
"We are facing a situation where we have a growing gas demand combined with a declining provision. This is something Argentina will suffer for several years to come", said Lapeña.
To address the situation in the Bahia Blanca area there's a re-gasification vessel (Excelsior) which converts the LNG transported by tankers into the pipelines network. So far this year 12 vessels have called at Bahía Blanca, compared to the 11 on a similar period in 2009 and six in 2008.
Argentina is building a re-gasification plant at Puerto Rosales, but until then gas consumers will have to rely on the Excelsior portable plant.
Meantime electricity demand also marked a new record for Argentina, 19.766 MW on Wednesday at 20:00 hours. The extra demand forces greater generation and obviously increased need for natural gas in those plants that operate on this fuel and which is a significant percentage in Argentina.