Spain calls for 'understanding' from released Cuban political prisoners
Monday, July 19th 2010 - 00:21 UTC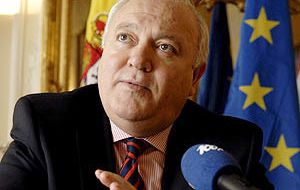 Spanish Foreign Affairs minister Míguel Angel Moratinos called for "understanding" from the released Cuban political prisoners which arrived in Spain and who are complaining about their 'undefined' legal status.
"You will have the best possible status with no doors closed if you wish to return to Cuba, that is Spain's commitment", said Moratinos from Kazakhstan where he attended a European ministerial meeting on security and cooperation.
Some of the eleven released Cubans have protested about their legal status since arriving in Spain fearing they are in a "legal limbo".
"We don't feel free to decide on our own future and we've been told that they will declare us legal immigrants and distribute us in several Spanish cities", said Ricardo Alonso González.
Moratinos recalled that the group travelled to Spain 'voluntarily' after having been released by the Castro brothers' regime and that Madrid's intention is to grant them all possible facilities so "they can decide where to reside".
Receiving the first batch of eleven released political prisoners, plus another nine and their relatives, scheduled to arrive next Tuesday, totalling 135 underscores the 'generosity' of the Spanish Executive and its people, indicated Moratinos.
"I'm only asking for some understanding, not gratitude", said the Spanish official.
The release of the 20 Cuban political prisoners is part of the commitment made by the Cuban regime to release 52 political prisoners from the so-called Group of 75, imprisoned since 2003, in a period of four months, within the framework of its dialogue with the Cuban Catholic Church and the Spanish government.
The political prisoners have declined the offer of going to Spain, but whether they will also be freed and be allowed to stay on the island is as yet unknown.