Forty million world-wide learning Chinese at Confucius Institutes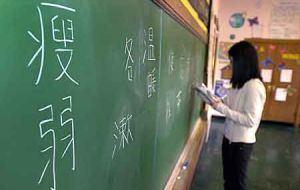 Over 40 million people are learning the Chinese language and interest keeps growing as Beijing's international influence expands world wide according to Xu Lin, Director of the Institute to promote the language overseas and head of the Confucius Institute. "Achievements are noticeable in the promotion of Chinese language and culture.
However, we need to recognize that there is yet a lot to be done" said Xu Lin during the Second Congress of Confucius Institutes in Ibero-America which took place in Santiago de Chile with the participation of Chinese language academics from China and ten Spanish-speaking countries.
Xu said that even when Chinese people were modest and reluctant to open to the world, the interest to learn about Chinese culture and language is so strong that the country was obliged to reveal its millenary civilization and the "Confucius Institutes had been established worldwide to fulfil this task".
The Confucius Institute is a non-profit social welfare institution aimed at expanding the teaching of the Chinese language and introducing Chinese arts, music, philosophy to local society, Xu said.
"In May we had more than 300 Confucius Institutes all over the world in 90 countries and regions, which in numbers mean over 40 million students outside China are learning the language".
Xu said that in Latin America, Spain and Portugal, despite the geographical distance, there has been a strong interest in learning Chinese in recent years. "In Argentina, Brazil, Chile, Colombia, Costa Rica, Cuba, Mexico, Peru, Portugal and Spain, 25 institutes are offering classes to tens of thousands".
Besides teaching the language, one of the most important missions of Confucius Institutes is to spread Chinese culture through the organization of events of Chinese music, theatre, movies, folklore, martial arts, medicine and philosophy.
"These events enable local peoples to understand what China and Chinese culture really represents for the world, besides its economic numbers", Xu said.
But unfortunately there are not enough qualified teachers who dominate local languages at the host countries as well as lack of teaching materials tailored to the needs of individual countries.
To address this challenge Xu said the Department she heads has launched a scholarship program to train foreign learners of Chinese in China, "so they can return to their countries as qualified teachers".
Additionally Confucius Institutes in each country or region seek to train Chinese immigrants or Chinese descendants, who dominate both languages and would then only need to learn teaching methods.
"To work as a Chinese teacher overseas is a hard job and no one can expect to make a fortune or fame but it is a noble and significant cause" pointed out Xu adding she felt very satisfied and happy as a messenger of Chinese culture to the world.