Peru and Chile agree on confidence building measures in defence affairs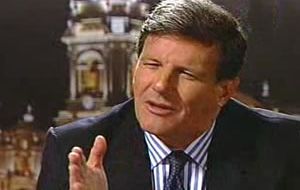 Peruvian Defence Minister Rafael Rey said this week that representatives from Chile and Peru would meet next Monday for the first time in an effort to establish common criteria for approving military expenditures. Rey also said he would meet with his Chilean counterpart, Jaime Ravinet, in Lima in August.
"We will try to move as soon as possible and agree on a procedure that measures apples with apples, and not apples and oranges," Rey said, referring to arms procurement, an issue that strained relations between Santiago and Lima in 2009.
Rey travelled to Chile in late May, where he met with Ravinet and also spoke to President Sebastián Piñera.
Though Chile participated in Peru's independence in 1821, securing a good partnership at the time, the two countries have not had such amicable relations since then. Both hold grudges from the War of the Pacific involving Peru, Chile and Bolivia in the late 19th century. In 1975, when due to ideological conflicts, the Peruvian military set a date to invade Chile, but was later dissuaded.
Despite the hostile past, the presidents of Chile and Peru have confirmed their intentions to improve their countries' relationship, mainly because of the huge amount of commercial business between the two.

By Laura French – Santiago Times