Rockhopper spuds second well in Falklands North Basin
Friday, July 23rd 2010 - 22:39 UTC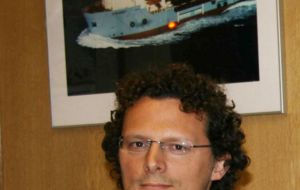 Rockhopper Exploration (AIM: RKH) announced that on Friday early morning it had spudded Ernest 26/6-1 exploration well in the North Falkland Basin, the second well the British company is drilling following the successful discovery of oil in its Sea Lion prospect.
The Ernest prospect is located on Licence PL024 and Rockhopper holds a 100% interest. The well is being drilled to an estimated target depth of circa 2,400 metres. Drilling operations are expected to take approximately 30 days.
Ernest is being drilled using the fourth rig slot in the overall drilling program of the 'Ocean Guardian' rig contracted by Desire Petroleum and leased to other companies operating in Falklands' waters.
On completion of the Ernest 26/6-1 Exploration Well, it is currently anticipated that the Ocean Guardian will return to Rockhopper's Sea Lion 14/10-2 Well (100% Rockhopper) to conduct flow testing on the oil discovery.
Rockhopper was established in February 2004 with a strategy to invest in and carry out an offshore oil exploration program to the north of the Falkland Islands. The Company floated on AIM in August 2005 and holds a 100% interest in four offshore production licences: PL023, PL024, PL032 and PL033 which cover approximately 3,800 sq. km.
Rockhopper has also farmed in (7.5% working interest) to licences PL003 and PL004, which are operated by Desire Petroleum.
These licences have been granted by the Falkland Islands government.
In February 2010, the Ocean Guardian drilling rig arrived in Falkland waters to carry out a multi-well drilling campaign.