Both Kirchners, Nestor and Cristina want to run in the 2011 presidential election
Monday, July 26th 2010 - 05:36 UTC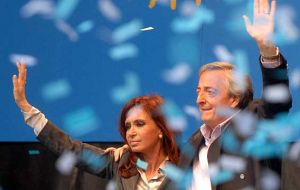 Former Argentine president Nestor Kirchner added more fuel to speculations about next year's presidential election when he insinuated that both members of the most powerful couple in Argentina could be running.
"It's too soon at the moment to talk about candidacies, but why not, it could be a penguin, a she-penguin or primaries" said Kirchner who accompanied his wife President Cristina Fernandez de Kirchner during a visit to a northern province, Santiago del Estero.
However he insisted that "we must forget about the balloting for some time" and forecasted that the ruling Justicialiata party, in spite of its serious internal divisions "will hold open and broad primaries; it's a democratic party".
The weekend statement follows on Mrs. Kirchner's words last week when in a display of surprising good humour she was ironic about her re-election "why has it to be another Nestor (in 2011)?" and immediately asked: "why can't it be Cristina again?.
It was the first time that Mrs Kirchner insinuated a possibility that has been in the air and in political analysts columns for several months. But some of the most faithful in the Kirchner bunker have begun sending test balloons.
"Why not another Cristina?" said cabinet chief Anibal Fernandez who likes to say that "both Nestor and Cristina are the best candidates" of the ruling coalition. And Agustin Rossi, head of the Kirchner's group in the Lower House went further, "I'm more inclined for Cristina because she has shown great capacity in different issues".
"The continuity of the current development project is in the hands of Nestor or Cristina, any of the two are candidates that ensure continuity to the policies of inclusion and production development", said Julio Pereyra a powerful mayor and leader from the province of Buenos Aires considered a traditional stronghold of the ruling Justicialista party.
As if the couple's business was not enough last week Mr. Kirchner was the main speaker at the launching of a political group, in preparation for the 2011 elections, headed by his sister and Social Development minister, Alicia Kirchner.
Argentine presidents can be re-elected for an only consecutive period of four years. Mr. Kirchner was president from 2003 to 2007, but did not run for a second period; however his wife was elected in 2007.