Kuwait plans to open embassy in Montevideo to bolster trade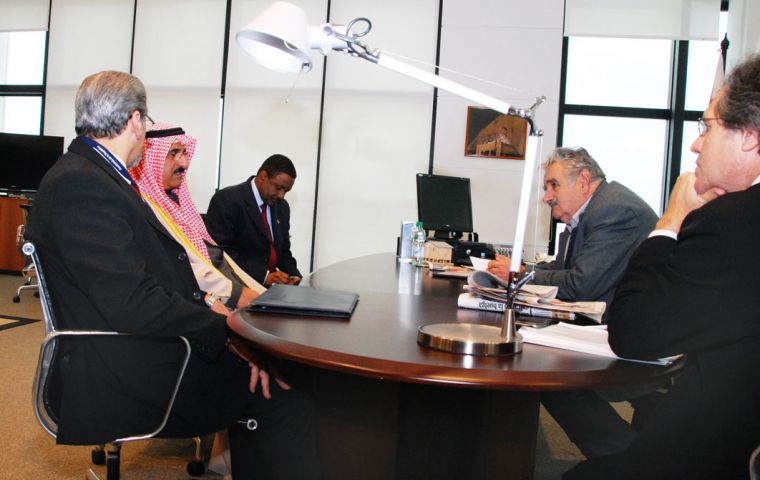 Kuwait and Uruguay signed several agreements to bolster bilateral relations during the visit to Montevideo of a high level delegation from the Middle East country. Kuwaiti authorities announced that the kingdom would soon be opening an embassy in Montevideo.
The agreements were signed Friday during a meeting between Uruguayan president Jose Mujica and the Prime Minister of Kuwait Sheikh Nasser Al-Mohammad Al-Ahmad Al-Sabah, head of the delegation that is visiting several countries in South America.
Sheikh Nasser said that King Amir Sheikh Sabah Al-Ahmad Al-Jaber Al-Sabah had invited President Mujica to visit Kuwait as part of the process to bolster trade, political, transport and cultural relations with Uruguay.
Kuwait would be opening an embassy in Montevideo as part of the plan to extend diplomat ties with Uruguay, affirmed Sheikh Nasser.
Sheikh Nasser and President Mujica witnessed the signing of the agreements that included a memo to bolster ties at foreign relations level; Kuwait's Minister of Finance Mustafa Al-Shimali signed an agreement to boost economic and technical relations; Minister of Commerce and Industry Ahmad Rashed Al-Haroun signed an agreement to promote commercial relations and the head of Kuwait's Civil Aviation Bader Bu-Taiban signed an agreement referred to aviation services.
After the signing, President Mujica held a banquet in honor of His Highness the Prime Minister Sheikh Nasser and the accompanying delegation.