Lula da Silva will continue to openly support Dilma's presidential campaign
Saturday, July 31st 2010 - 05:05 UTC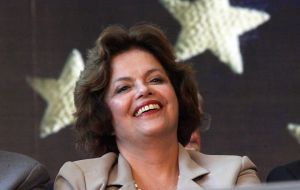 Brazilian president Lula da Silva who insists in campaigning for the incumbent presidential candidate Dilma Rousseff, in spite of electoral regulations, revealed that the country's 'coup elite' tried to remove him from office.
"There are political adversaries who are saying that Lula should not be involved in the campaign because he is president and should remain on the sidelines as a magistrate, but when they wanted to overthrow me I wasn't seen as a magistrate", said the Brazilian president during a political rally campaigning next to candidate Ms Rousseff in the city of Porto Alegre.
Lula da Silva claimed that the extreme right tried to destabilize his government and said it was the "same elite" that forced former president Getulio Vargas "to shoot himself in the heart" (1954) and who also "forced the resignation of Joao Goulart (1964)".
The president who at the end of his two four year terms enjoys an 80% public opinion support reiterated he would continue to extend all his backing to Ms Rousseff that currently has a 36% vote intention, according to the latest Folha de Sao Paulo polls released earlier this week.
The president's former Energy minister and former cabinet chief is tied with the main opposition candidate Jose Serra from the Brazilian Social Democracy party.
"I've told that elite that I won't stay at my office reading newspapers about Dilma's campaign, on the contrary I will be out in the streets with the Brazilian people, who is going to decide the future of this country", underlined Lula da Silva during his 30 minute speech at the Gigantinho stadium packed with 25.000 militants.
Women know how "to generate, give birth and manage" and the time has come that they can also rule Brazil insisted the popular leader.
"Dilma has the support of all the trade union federations, from the National Students Union and all social movements and keeps building support", insisted Lula da Silva.
However the fact remains that the two main hopefuls, and just over two months from 3 October election remain tied and Dilma seems to take off whenever Lula da Silva appears in rallies to support her.
Rousseff's strategy is to be seen as the natural successor of Lula da Silva "dressed as a woman" as the president himself has said on more than an occasion.
Lula da Silva and Rousseff have been fined several times, 5.000 US dollars on each occasion for having the Brazilian president openly involved in the campaign. Under Brazilian electoral legislation theoretically the president can only campaign on "his free time" (after office hours) and the candidate can't be present at the inauguration of federal public works.
This is the first time in recent history of such a tight presidential race. If none of the candidates manages 50% plus one of ballots, a run-off is scheduled a month later.