Proposal in Chile to legalize same sex marriage "to install the debate in society"
Tuesday, August 3rd 2010 - 14:45 UTC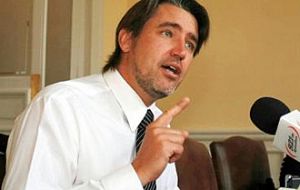 Socialist Sen. Fulvio Rossi announced Sunday that he will present a law to the Senate on Tuesday to legalize same sex marriage in Chile. The announcement was made at a press conference one day after Santiago Archbishop Francisco Javier Errázuriz publicly called the idea of marriage between two people of the same sex "an outrage," referring to Argentina's initiative.
Argentina became the first Latinamerican country to legalize gay marriage two weeks ago on July 15. Argentina also legalized adoption for same sex couples with the same bill.
"It may be that two people, two men or two women, want to live together and share life, but to call that marriage is an outrage which some countries are allowing. I regret that Argentina has allowed it, the Archbishop said while speaking with journalists.
Sunday, Rossi asked the Catholic Church to be "friendlier" and said the Archbishop's statements "cause immense pain to a community of easily 2 million people." Rossi added that he does consider himself part of the Church, but the words of the Archbishop are words "of intolerance, a lack of love and caring. I am not a member of a Church that wishes to condemn. I am a member of a Church that knows how to take in all Chileans with care."
The Senator said his proposal would modify Article 112 of the Civil Code, which defines marriage as a union between a man and a woman. Article 112 also relates childbearing as a purpose of marriage, which will also be under examination, as the proposal includes the rights for same sex couples to adopt.
Rossi said he recognized that the initiative could be rejected in Parliament, but added it would be a big step for the country either way, as the proposal and discussion would install the debate not only in society, but also in the political sphere.
Carolina Tohá, former minister in the Bachelet Government and future president of the centre-left Party For Democratic (PPD), said Rossi's proposal will have the votes of her party. "We do not think gay people have fewer rights to build stable relationships than heterosexuals. On the contrary, we think they are Chileans are entitled to make their lives and the legislation gives all Chileans the conditions to be able to do so safely," she said.
Senate President Jorge Pizarro, a member of the Christian Democratic party, reacted more cautiously. He pointed to the fact that a proposal is already pending regarding civil unions in Chile. "First things first. Here civil unions do not have the protection necessary to protect their rights," he said.
Further, the president of the conservative Independent Democratic Union (UDI), Sen. Juan Antonio Coloma, said legislation of this nature "seems total nonsense… In our view, the basis of society is the family and that depends on the marriage, understood as a man and a woman," he said.
The Archbishop also speculated on the possibility of a decline in birth rate if gay marriage was approved. "In our own country, with the small birth rate as it is, if gay marriage was adopted, there would be a population decline, leading to an aging population," he said.
No such decline has been proven or measured within the populations of other countries which allow gay marriage.
MOVIHL, Chile's gay rights organization, described the Archbishop's comments as "bloody and undemocratic," as well as homophobic and "improper promotion of what Christianity says."
By Laura French – Santiago Times