Germany recognizes Latin America's new economic and diplomatic might
Thursday, August 5th 2010 - 04:51 UTC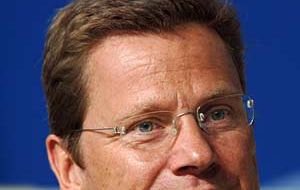 German Foreign Minister Guido Westerwelle presented a new Latin America strategy Wednesday that he said finally did justice to the burgeoning region's new economic and diplomatic might.
Long dismissed as a region of development aid recipients with little influence on pressing issues on the world stage, Latin America now deserves more focused attention, Westerwelle said.
"The whole South American continent is taking off -- it is a singular success story despite the setbacks and difficulties and we should be smart enough to take part," he said.
The foreign ministry developed the new plan for Latin America, a market with more than 500 million consumers, as well as the Caribbean in coordination with other government ministries.
It entails a three-pronged approach including strategies to boost trade, harness the diplomatic influence of global players such as Brazil and assume more joint responsibility for international problems.
Economically, the region's rapid development has created massive demand for infrastructure and renewable energy sources and Berlin sees strong interest in "German quality, German technology and German investment" in these areas.
Berlin wants to help German companies seek out opportunities in the region, encourage more cooperation in research and development and in fighting climate change, and offer German expertise in police work to fight the drug trade.
Westerwelle, who toured Chile, Argentina, Uruguay and Brazil in March, highlighted the 2014 soccer World Cup and 2016 Summer Olympics in Brazil as potential watershed moments for the continent's image.
Germany, Europe's biggest economy, fears it has neglected Latin America to its own detriment, leaving the region to the former colonial masters Spain and Portugal and more ardent suitors such as France, diplomats say.
Trade volume between Germany and Latin America reached 36.5 billion Euros (48.2 billion US dollars) in 2009, up 16.3% from 2005. During the same period, total German foreign trade grew by 4.7%.