Paraguay Senate waiting for political deal, postpones vote on Unasur membership
Friday, August 6th 2010 - 00:50 UTC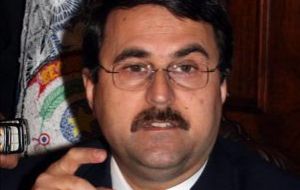 The Paraguayan Senate under opposition control postponed the consideration of Paraguay's incorporation to Unasur, Union of South American Nations, without any mediate timetable to review the issue. The Senate also has it its "frozen" agenda a vote on Venezuela's incorporation to Mercosur as full member.
"The postponement has no time limit", said Senator Carlos Filizzola from the ruling coalition who unsuccessfully tried to include the issue in the agenda to be addressed in a fortnight.
Jorge Oviedo from the opposition said the issue will be again considered "once the government of President (Fernando) Lugo complies with pending political accords" with opposition groups Unace and Colorado.
The influential daily 'ABC' with the country's largest circulation openly expressed its opposition to Paraguay joining the Unasur political block, which it said has "a clear ideological inclination", adding that the initiative responds "to the Brazilian strategy geared to consolidate its regional leadership" and to act as the group's spokesperson before other organizations.
ABC recalls how Brazil impeded Mexico from joining Unasur; the recent failure of the Unasur extraordinary meeting in Ecuador with the purpose of addressing the Colombia/Venezuela conflict, and the fact that Unasur offices in Quito were covered with graffiti and offensive caricatures of Colombian president Alvaro Uribe.
"Unasur has been created to bring together governments of the same ideological inclination", said ABC and in the specific case of President Chavez from Venezuela "to justify his threats and intimidations against Colombia plus his rhetoric and belligerent excesses".
The Paraguayan senate also has to vote on Venezuela's incorporation as a full member of Mercosur, but the issue remains stalled. President Lugo, after two years of hostilities begun a few months ago a policy of rapprochement with opposition senators to try and reach an understanding facilitating the approval of pending legislation including the ratification of Venezuela's request and Paraguay's Unasur membership.
However negotiations so far haven't 'matured' according to Asunción political sources.
Vice-president Federico Franco confirmed this week he is against Venezuela joining Mercosur as full member, but left the issue in the hands of the Senate. "My position is very clear. Everybody knows what I think about President Chavez", said Franco.
"It seems ironic but the well-being of Mercosur depends on the Paraguayan Senate. On the senate from the smallest Mercosur member, and that we could be salvaging or condemning Mercosur", added Franco who has been a long time critic of President Chavez "anti-democratic attitudes".
On his return Tuesday from the Mercosur summit in Argentina President Lugo called on Congress to approve Venezuela's Mercosur incorporation, a country with trade and investment advantages for Paraguay.
"I respect parliament and they are free to address the issue, however logical arguments are necessary", said Lugo who recalled that Venezuela is a great market for foodstuff (it imports 80% of its needs) and "Paraguay is a leading exporter of grains, oil seeds, meats".
Lugo added lawmakers should think "serenely and maturely" assessing all factors because many times a country is identified with the temporary leader. "Chavez can be in office now but what matters is that Venezuela remains", he underlined.
However the issue has two chapters: first President Lugo must send the bill to parliament (with a degree of certainty he has the sufficient votes) and second that the Senate effectively supports the initiative, something which is unthinkable currently.
Furthermore a speaker for the opposition, Senator Silvio Olevar was ironic about Venezuelan appeals calling on Paraguayan politicians "to open their hearts".
Senator Olevar asked President Chavez 'to open his heart' to democratic principles, to freedom of expression, freedom of speech, to a free press and stop intimidating the opposition and the media.