Wheat futures soar as drought-stricken Russia halts grain exports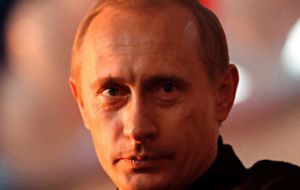 Wheat futures soared on Thursday after the world's number three exporter the Russian Federation said it would temporarily halt grain shipments. The worst drought on record have devastated crops in parts of Russia and caused international grain prices to spike as markets anticipate a drop in global supplies.
Chicago Board of Trade soft red winter wheat has increased seven of the past eight days and buying by funds and traders initially spilled across the grain markets. Corn and soybeans also came under the influence of the wheat prices escalation.
The benchmark contract finished up 8.3%, the biggest daily percentage gain in three weeks, and has gained 82% since the prices bottomed on June 9 at $4.25-1/2 per bushel.
Prime Minister Vladimir Putin signed an order banning grain and flour exports from August 15 to December 31, with a spokesman saying this would apply to contracts that had been already signed. The news confirmed an earlier report from Interfax that kicked off the buying.
Kazakhstan, another key Black Sea wheat grower that is expecting a 35% drop in the grain harvest, said on Thursday it will consider a request by Russia to curb exports at a meeting later this month.
The Canadian Wheat Board, a major grain marketer and hedger of spring wheat on the Minneapolis Grain Exchange, said Russian drought alone isn't enough to sustain current wheat prices, but said that funds could bid wheat beyond levels that global fundamentals support.
Record spring rains in Western Canada have contributed to fears of a global shortage. The Wheat Board expects Canada to produce its smallest wheat crop in three years.
The International Grains Council said last week it expects global wheat production of 651 million tons, well below the prior season but still the third-biggest crop on record. It projected Russian production at 50 million tons, or nearly 8% of the world wheat harvest.
Without Russian wheat, the prospects of tighter world supplies offer opportunities to other major exporters including the United States and European Union.
"An export stop by Russia would mean the cards are reshuffled in the international wheat market," one European trader said. "It would open up huge new opportunities for west European and U.S. sales."
Markets were also nervous that the continuation of Russia's drought conditions would disrupt the forthcoming sowing season for winter crops, a point made on Wednesday by both the UN's Food and Agriculture Organization and the head of the Institute for Agricultural Market Studies (IKAR) analysts.
The FAO cut 25 million tons from its last 2010 global wheat estimate, which was released in June before the drought set in.