Brazil ready to confirm another record crop: 147.1 million tons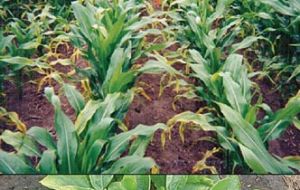 Brazil is poised to confirm its largest crop ever, 147.1 million tons in 2009/2010, which is 9% higher that the 135.1 million of 2008/09 according to the latest survey from Conab, the country's National Supply Agency. The latest record was in 2007/08 with 146 million tons.
Brazil's 2009/10 soybean crop was estimated at a record 68.47 million tons, 20% higher than the previous harvest, Conab said Thursday. Brazil finished harvesting the most recent soy crop in May. In 2008/09, it harvested 57.17 million tons of soy. Higher yields in Rio Grande so Sul helped boost the volume.
Corn output is estimated to reach 54.38 million tons from 53.46 million tons in July. The previous 2008/09 crop was 51 million tons. Brazil has two corn crops: the main summer crop that starts planting in September and begins harvest in December; and a smaller but growing winter crop that kicks off planting in January and harvests around June-July.
The winter corn crop has suffered from drought in Mato Grosso, one of the main growing states for the second crop. Nonetheless, winter corn output is seen at 20.18 million tons, up from 19.41 million tons seen in July and 17.35 million tons a year ago, according to Conab latest forecast.
The new 2010 wheat crop is estimated at 5.34 million tons, up from the 5.2 million tons in July and 5.03 million tons harvested in 2009. Planting of the new crop ended in July in all producing states and has begun already in Parana, the main producer state, Conab said. The weather has been favourable for the development of the wheat crop added the agency.
Brazil's lint cotton output is seen at 1.17 million tons, down from the 1.26 million tons forecast in July and 1.21 million tons harvested in 2008/09.
The coffee crop is estimated in 45.8 million 60 kilos bags, which represents an increase of 13.2% over the last crop.
The farmed area for the 2009/10 crop was 47.3 million hectares, 0.7% less than in 2008/2009. Soy and corn take up most of the area. Soy bean areas were up 7.9% and second crop corn 5.8%.
Brazil is a leading exporter of sugar, beef and poultry, coffee and orange juice. The country is only second to the US in soybean exports. Brazilian agriculture exports in 2009 totalled 64.7 billion US dollars.