Argentina confident it can issue debt in US dollars below 9% interest rate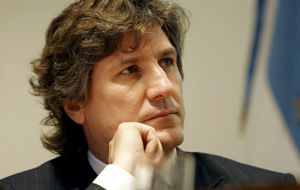 Argentine Economy Minister Amado Boudou confirmed what newspaper Ámbito Financiero had anticipated a week ago: the plan is to issue debt in US dollars but below the 9% mark, which with the current panorama may allow for an even lower percentage index.
"Today in Argentina we are looking at a new situation: the government does not have to go crazy in search of financing and, although we are evaluating alternatives, there is no fiscal rush. If we issue bonds, we want to achieve lower rates" said Boudou talking with the press in Buenos Aires.
Looking over the economic activity and deals made in the past week and the latest data about the performance of economy, Boudou said that "we are in conditions to accept debt below the one-digit index rate. We feel, however, that we can wait a little longer."
When Argentina launched its latest swap operation (18 billion US dollars), Boudou placed a 10% interest rate for future debt placements. In light of recent changes, however, the Global 2017 rose in July (16%) and in the first week of August it rose 1.5 percent more. Last week, the Global 2017 closed at US $97, confirming that the rate is already falling below 9.9%.
In addition, the payment of 2.3 billion dollars made by the government to Boden 2012 shareholders fuelled the local market and strengthened confidence in those who believe that the percentage rates can be minimized further.
"The first bond issued in years is the Global 2017, which started off at 14% and is now at around 10%; I believe that it is a bond that still has more good news to give," said Boudou.
Ámbito Financiero had anticipated that the minister had offers from seven banks to issue debt below the 10% nterest rate, but Boudou decided to wait until that rate falls a bit lower to initiate the first international offer from the part of Argentina since 2001.