Russian drought and fires catches the US with record crops of corn and soybeans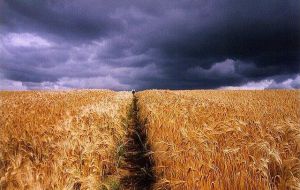 Russian President Dmitri Medvedev says a full one-quarter of Russia's grain crops have been destroyed by weeks of drought and wildfires, leaving many Russian farmers close to bankruptcy.
Medvedev spoke Thursday to farmers and grain traders in southern Russia, calling the situation "difficult" and even "extreme". He did not quantify the grain losses in his address but official estimates show more than 43 million hectares were sown for this year's harvests.
Earlier this week, Prime Minister Vladimir Putin announced a ban on Russian grain exports that could last until the end of the year, in a push to control domestic food and livestock feed prices.
The ban pushed wheat futures on the Chicago Board of Trade to a two-year high of $7.85 a bushel, and is expected to drive a spike in grain prices in much of the world.
Medvedev on Thursday also lifted a state of emergency in three of seven regions hit by the worst of the wildfires.
The official death toll from the Russian fires, weeks of drought and record-high temperatures stands at 52. But authorities in the capital say the Moscow death rate had jumped from a norm of 350 a day to more than 700 deaths daily by early this week.
Skies over Moscow were clear Thursday, giving the city's 10 million residents desperately needed relief from more than a week of thick and acrid smog.
In related news the US Department of Agriculture said that despite an outlook for record U.S. corn and soybean harvests in 2010, crop prices will be higher than previously forecast because of stronger exports and tighter stockpiles.
US beef, pork and dairy producers face higher feed costs and tighter profits over the next year as drought slashes Russia's wheat crop and competition for US grain supplies increases, said US market analysts.
"The Russian drought has changed the landscape of US agriculture for the next 18 months" Dan Basse president of AgResource Co said during a press briefing held at Chicago-based CME Group's trading floor following the release of the USDA reports.
"Things are going to get spicier," Basse said. "We'll have big harvests, big crops and big demand. There will be plenty of volatility in the months to come."
Thanks to early planting and abundant rainfall across much of the Midwest, US farmers are expected to reap a corn harvest of 13.365 billion bushels, up 1.9% from 2009 and an all-time high, the USDA said.
The soybean harvest is projected at 3.433 billion bushels, up 2.2% from last year and also an all-time high.
Still, corn, soybean and wheat futures in Chicago surged Thursday after the USDA cut its projection for Russia's wheat crop by 15%, citing "extreme drought and record heat" during July and early August. Russia is now expected to harvest 45 million metric tons of wheat in the 2010-11 marketing year, down from 53 million metric tons in a July forecast.
The drought has also hit other major wheat-growing countries in that region, including Kazakhstan, whose projected harvest was lowered 21%, to 11.5 million metric tons.
USDA global wheat production estimates "were kind of breathtaking," said Jerry Gidel, an analyst with North American Risk Management Services Inc., who also spoke at the CME briefing.
USDA numbers "really show Russia has an amazingly poor wheat crop," Gidel said. "But in the U.S., we will have plenty of grain available for others. It's very important we continue to have good crops in the U.S."
Worldwide, wheat stocks next year are expected to drop 6.6%, to 174.8 million metric tons, the USDA said.
Also in today's reports, the USDA cut projected US beef production for 2010, citing lighter carcass weights that will offset higher slaughter. US pork production is also expected to be lower because of smaller than anticipated live hog imports from Canada. Beef and pork exports were increased.
In dairy, the USDA raised estimated 2010 milk production 0.4% from July, to a record 192 billion pounds, saying producers "continue to add cows to the herd and the rate of growth in milk per cow has increased."
But stronger exports and tighter global supplies will help boost milk prices. Class III milk prices, an industry benchmark, are expected to average $14.15 to 14.35 per hundredweight this year, up from a July estimate of $13.80 to $14.10, the USDA said.