US Dollar Drops To Its Lowest Level In Six Months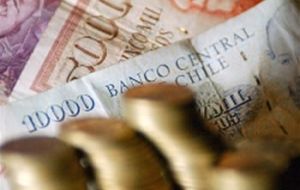 Globally the US dollar has been sinking this year and the Chilean peso has fared particularly well against it.
It is the fifth currency around the world that has most gained value over the U.S. dollar. This is due to the positive projections for the Chilean economy. The 26% increase in Chile's stock market this year, the good performance of foreign stock markets, and the rising price of copper have all strengthened the Chilean Peso against the U.S. currency.
Another important factor is that the Finance Minister has liquidated a significant number of dollars to finance reconstruction efforts after the Feb. 27 earthquake.
Juan Pablo Morales, an analyst at WAC Research, pointed to other good signs: the Monthly Index of Economic Activity (Imacec) data was better than originally projected and the Central Bank is expected to raise the Monetary Policy Rate.
Similarly, there was much speculation on what the U.S. Federal Reserve would announce this Tuesday, after signs indicated that the U.S. economy's recovery was slowing. Some expected a proactive quantitative ease, while others thought the Fed would simply step back and observe the market's behaviour before rushing into more aggressive action that might seriously weaken the dollar.
Finally, the Fed announced that it would reinvest money from maturing mortgages bonds acquired at the beginning of the recovery efforts into government debt. This move weakened the dollar against the euro and the yen, but it was not aggressive enough to reflect any significant change in the exchange rate with the Chilean peso.
Still, analysts say the Fed's commitment to low rates, and gloomy projections for U.S. economic growth will most likely weaken the U.S. dollar against the more optimistic Chilean economic outlook.
The strength of the Chilean peso plays against the nation's export companies, and some are calling for intervention by the Central Bank. For now, that seems unlikely, as most experts agree that trying to control this deflation through direct intervention would be ineffective, even if the dollar were to drop below 500 pesos.
For now, this level of deflation is not critical, and neither is the projected deflation. But Central Bank President José de Gregorio warned that he remained uneasy, saying that it "is still not a problem for the Chilean economy, but we have to remain alert".
By Ricardo Pommer – Santiago Times