Strong unanimous support for the Palestine people from the Chilean senate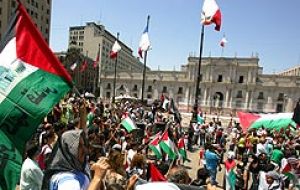 Chile's Senate voted unanimously against custom benefits for Israeli products coming from occupied Palestinian territory, and will formally ask President Sebastián Piñera to pass this bill.
The bill is based on the Euro-Mediterranean Integration Agreement, which was signed between the European Union and Israel and aims to enhance political dialogue, economic cooperation and development of free trade between the two parties.
The Senate said Israel did not clearly state the origin of certain products it exported, leading the international community to violate agreements and treaties that prohibit trade of items that originate from places suspect of violating human rights.
The Senate noted that Chile was a founder of the Universal Declaration of Human Rights: "Our country cannot recognize Israeli goods that come from territories where they publicly and notoriously violate the human rights of Palestinian towns."
Chile is home to the largest Palestinian community outside of the Arab world and its government has joined an international outcry against the Israeli attack on a flotilla delivering aid to the Gaza strip. Earlier this year, Chile also followed the lead of the United States in opposing new Israeli settlements.
By Radhika Sanghani – Santiago Times