Argentina developing satellite launcher; ready by 2013 in Puerto Belgarno
Monday, August 16th 2010 - 05:05 UTC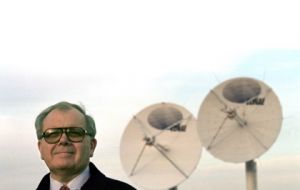 Argentina is in the process of developing a satellite launcher which could become operational in three years time, making it the sixth country in the world with that capacity, according to a Sunday edition report in La Nacion.
"With the needed resources, we estimate that by 2013 we could be launching the first space vehicle", said Conrado Varotto, CEO of Argentina's National Committee of Space Activities, Conae.
The project is being developed by hundreds of Conae engineers and researchers.
"We estimate that a vehicle as the one we are planning could cost a fourth of what it would cost anywhere else. It's obvious that it is convenient for the country, because I can have it when I need it and it also opens a line of research and know-how in which we can continue to advance", said Varotto.
The Argentine launcher could put in orbit satellites weighing between 250 and 400 kilos under the LEO orbit (which is between 200 and 1.200 kilometres).
"Regarding the booster, at the moment we are quite advanced with the first prototype with an engine that has 30.000 kilos take off push. Probably the first launcher will be a combination of three of them", added Varotto
Conae CEO pointed out that the fuel, engines, structure and navigation system for the rocket launcher are being developed in Argentina.
The launching pad would be in Puerto Belgrano, where there's a huge military compound. Argentina currently has three families of satellites to monitor the Earth: SAC, Saocom and SAR. SAC has instruments which work optically and/or with passive microwaves; Saocom, active microwaves and radars and SARE, for specific applications in orbits which are of specific interest for Argentina and help map segments of the targets, working under the so called dynamic cluster.
"This new concept helps with immediate response. Currently if we need a satellite in orbit for a specific mission, we appeal to the so called 'monolithic' which means that by the time it is designed and put into orbit, six years can go by. If something goes wrong when in orbit, it's lost and if technological advances occur, you can't replace the obsolete pieces. However with 'small' or 'pieces' of satellites each with different functions and duties, we can somehow overcome the setbacks and delays", said Varotto.
"Hopefully in 2013, we can begin applying this technique once we make the first launching".
The six countries with launching satellite systems are Ukraine/Russia, China, Japan, France/EU, India and the US.