US militant apologizes for collaborating with terrorism in Peru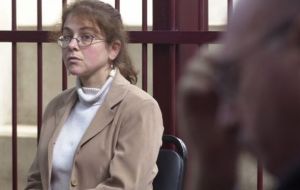 United States citizen Lori Berenson apologized to the Peruvian people for collaborating with a terrorist group and asked an appeals court to let her remain free on parole. She was sentenced to 20 year in prison and was released last May after serving 15 years, three fourths of the sentence.
Ms Berenson requested to make her case following on Friday's statement from Peruvian special prosecutor on terrorism who questioned her repentance and wants her to comply with the 20 year sentence.
The 40-year old New Yorker acknowledges collaborating with the Tupac Amaru Revolutionary Movement, MRTA, but insists she was never involved in violent actions.
"If my participation contributed to violence in Peru, I deeply regret it and I repent. If I have done harm to the country I regret it, I apologize. To those people who felt they were affected by my words or actions, I beg pardon", said Berenson addressing the criminal judge.
"I was sentenced for the crime of collaboration with terrorism, I collaborated with MRTA, but I never was a leader or a militant; I never participated in acts of violence, much less blood and have never killed in my life", added Berenson.
She said that in 15 years she had ample to time to reflect over the damages impaired on the Peruvian society by violence. Furthermore "I'm only interested in raising my 15 month child".
The court has up to 15 days to decide on Berenson's parole.