Colombian president, --temporarily--, rules out peace dialogue with guerrillas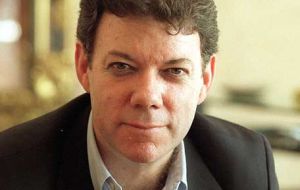 Colombian President Juan Manuel Santos ruled out, for the time being, any possible dialogue with the guerrilla organizations and said he would abstain from naming a peace commissioner. At the same time he called on the armed forces to increase their efforts in combating terrorism.
"We have not completely closed the key to dialogue, nor have we thrown the key out to sea, but until we see clear, irrefutable evidence that the conditions we have given are adhered to, there is no possibility for dialogue" Santos said following a meeting with the military high command.
The Colombian leader added that he will not name a new high commissioner for peace, a position occupied by Frank Pearl in the administration of former President Alvaro Uribe "because these are not the right circumstances to name one."
In his speech at the Jose Maria Cordoba military academy outside Medellín, Santos demanded "military results every day, on different fronts" because "that is how we are going to finally achieve peace."
Santos took office last August 7 with the promise of continuing the successful policy of "democratic security" of his mentor and predecessor president Uribe that privileges fighting frontally the Colombian Revolutionary Armed Forces, FARC and the National Liberation Army, ELN.
A week before Santos took office, FARC proposed dialogue in a video where their leader Alfonso Cano makes the official offering. But on August 12 a car bomb blast in Bogotá which so far remains unsolved as to its perpetrators and authorities have said they are considering "all hypotheses from guerrillas to extreme right groups".
Last weekend Santos rejected any initiative, international or domestic, for a peace plan in Colombia.
According to military estimates FARC and ELN, both on the run after eight years of the Uribe administration (with Santos in Defence) have seen their numbers dwindle to 8.000 and 2.500.