Latinamericans trust the media and the military, shows regional poll
Tuesday, August 17th 2010 - 23:56 UTC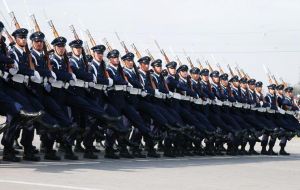 The media and the Armed Forces are among the institutions most trusted in Latin America, well ahead of the church, parliament and political parties, according to a regional opinion poll from FLACSO, Latinamerican Social Sciences Faculty.
The report titled "Governance and Democracy in Latin America" was based on a poll taken in 18 countries of the region last November and December totalling 9.057 interviews. FLACSO based in Costa Rica was founded in 1957 and is recognized as one of the most knowledgeable social sciences institutions in the region.
The poll showed that 58.6% of Latinamericans trust the media, followed by government executives, 48% and the Armed Forces, 43%. Parliaments on the other hand only are trusted by 31.5% of interviews, political parties 14.3%.
"The most worrisome data it that basic institutions for the development and consolidation of democracies such as political parties and Congress have a very low trust rating", said Francisco Rojas, president of Flacso.
"Although the electoral democracy is quite solid in the region, institutional problems persist which anticipate difficulties for the implementation of policies in the future", added Rojas.
Cooperation regional director Josette Altmann argues that trust in the media is closely linked to the "political debt" of governments with society, related to the non opening of spaces for a greater popular participation.
"The claims through the media has an important significance for the agenda of the different governments, even above the so-called 'country agenda'", added Altmann.
Regarding the Armed Forces 85% is against their abolishment (15% approve abolishment) and 43% are fully confident on them.
"The average Latinamerican is saying that 43% deposit their confidence in the Armed Forces", said Altmann who also finds a link with a great deficit in government agendas and that is "insecurity". For 91% of interviews insecurity (crime and lawlessness) is the main problem of the region according to the Flacso report.
The issue is also linked to the fact that 77% consider the military as professionals and not "deliberants" and because a military coup has 'very low probabilities', says Rojas.
The countries where the "perception of the probability of a coup is high" are Paraguay, 41%; Ecuador, 39% and Honduras, 31%, in spite of the fact that this last country had the military involved in the removal of elected president Manuel Zelaya in June 2009.
Other countries' with high perceptions include Mexico, 33.9%; Venezuela, 32%, while at the other end figure Chile, 6.2%; Costa Rica, 8.2% and Uruguay, 10.4%.