Petrobras admits 'minor' conservation problems on several oil platforms
Tuesday, August 17th 2010 - 09:22 UTC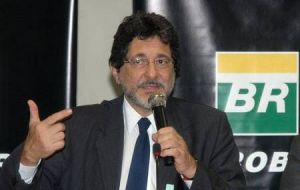 Brazil's government managed oil giant Petrobras CEO admitted Monday that minor conservation problems exist on some of the company's platforms in the Campos Basin, off the country's south-eastern coast.
Petrobras' CEO Jose Sergio Gabrielli said the detected problems would neither threaten workers' lives nor put the drilling operation at risk, adding that these platforms are waiting for a maintenance process scheduled for October.
"We would never put our workers at risk. All the decisions to maintain operations (on those platforms) were taken because we are sure that though these units need more conservation, they do not threaten the physical integrity of our workers," he said.
Pictures of the firm's platform P-33 with signs of rust were published by the local daily O Globo earlier this month, implying the platform is in poor condition.
The platform workers' union also issued a formal complaint about the P-33's condition, forcing the labor ministry and the National Petroleum Agency (ANP) to launch an inspection.
After concluding the inspection, the ANP ordered to shut down P-33 while Petrobras said it has filed appeals against the decision.
Despite public fears over another oil spill tragedy like the one caused by BP, Brazilian President Lula da Silva insisted the nation should not be discouraged from getting oil in its coastal waters at a depth of nearly 5,000 meters.
He also believes Brazil has the technology to avoid similar accidents.