Brazilian journalists challenge law which forbids satirizing candidates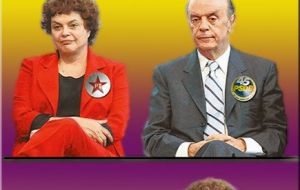 An election law from the era of Brazil's dictatorship past which forbids making fun of candidates has caused concern ahead of the countries October 3 presidential election and a possible run-off at the end of October.
Presidential elections are not a joking matter in Brazil and as an example TV and radio broadcasters are legally forbidden from making comical remarks about candidates.
The political anti-joking law is described by some as a draconian relic of Brazil's dictatorship era that threatens free speech, and is blight on the reputation of South America's largest democracy.
"Do you know of any other democracy in the world with rules like this?" said Marcelo Tas, the acerbic host of a weekly TV comedy show that delights in skewering politicians and celebrities alike.
Proponents of the restrictions during elections claim that they keep candidates from being disparaged or portrayed in an unfair manner. Making fun of candidates on the air ahead of presidential elections is punishable with fines up to $112,000 and a broadcast-license suspension.
But with the first wave of on-air political adverts starting Tuesday, Brazil's comedians and satirists are planning to fight for their right to ridicule with protests in Rio de Janeiro and other cities on Sunday.
The law has become a hot, trending topic for Brazilian users of Twitter and the focus of newspaper and magazine columns as well as debates at public seminars.