National Geographic wants to protect Chilean pristine marine life Island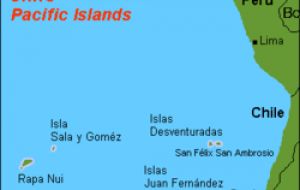 Chile's Salas y Gómez Island has caught the attention of The National Geographic Society as one of the most pristine marine sites in the world.
The internationally recognized institution, which runs the magazine by the same name, has requested permission to preserve the island by declaring it a marine park, which would allow visitors to the island only for educational and observational activities.
The island is about 1,990 miles off the coast of Chile and has never been inhabited by people. It was selected by National Geographic as a site for a marine park for its pristine state and its lack of legal protections. The island is also being preserved for its red coral and its biodiversity, which includes the highest density of sharks in the area and algae that grows up to 100 meters long.
The island is made up of two large rocks linked by a narrow isthmus. Its total surface area is around 15 hectares, and it is 700 meters across.
The site was chosen by Enric Sala, a representative from National Geographic., who has been travellng the world, looking for marine sites to conserve. Sala is the head of the Pristine Seas project, the mission of which is finding, studying and protecting the world's most pristine ocean areas.
Last Wednesday, Sala and Pristine Seas Executive Director Alex Muñoz met with government officials from the Senate Fishing Committee to discuss the possibility of the park. The committee agreed to protect the 200 miles of ocean surrounding the island.
"We think this will be well received by President [Sebastián] Piñera as a bicentennial project," said Sen. Antonio Horvath, the committee's president and a member of the National Renovation Party (the same party Piñera belongs to).
Currently, Chile protects only 0.03% of its ocean territories, and only 2% of the world's oceans are under some degree of protection.
By Kara Frantzich – Santiago Times