Undercover-anglers stop slaughter of whales on Faroe Islands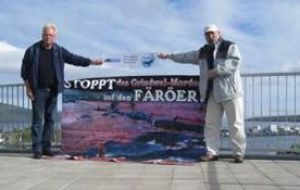 As soon as pilot whales are sighted in the waters off the Faroe Islands the hunting frenzy takes hold of the about 48.000 inhabitants. Boats are launched and pods of whales are herded into the next official hunting bay.
There in the shallow waters the killers are waiting, who are overwhelming the helpless animals with hooks and knives and turning the water into a sea of blood. Two animal rights activist from Germany have now managed to temporarily put a halt to this slaughter.
The two activists Juergen Ortmueller (56/tax accountant} and Andreas Morlok (44/ author and management consultant) went undercover equipped with angler's gear and were accepted by the Faroese as equal. They presented the government of the Faroe Island with a petition by their organizations named Whale and Dolphin-Forum (WDSF} and "ProWal" with almost 60.000 signatures to stop the slaughter.
This fake angling expedition was mainly set up, though, to directly protect the present whales. Unobserved the two activists chartered a speedboat and motored around the island putting "pingers" into the water which emit electronic noises mimicking the call of killer whales. Pilot whales stay away from orcas because they fear their attacks. Since June of this year almost 700 pilot whales were slaughtered by seven "Grinds"(slaughter location), but the whale-protection operation in early August was very effective and since then there were no more whale sightings and no more killings in the eastern part of the Faroe Islands.
The local whalers were bragging about their whaling successes and told war stories about the feats witnessed by the two activists. They told them that in July the slaughter came to a head when pods of whales numbering several hundred animals where herded into a very small bay only 10 x 20 meters in size. There the animals, which even included pregnant cows, suffered until the next morning.
The undercover anglers could have bought fresh pilot whale meat in restaurants, although the whale meat is supposed to be only for private consumption and is not meant for commercial gain.
The activists demand of the EU-motherland Denmark that they share the responsibility with the non EU-daughter state Faroe Islands. All documentation depicting the cruelty of whaling will be presented to the Danish government with the goal of finally banning all whaling. (WDSF).-