Brazil assures fearful Bolivia it will keep purchasing natural gas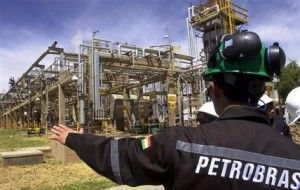 Brazilian government managed energy giant Petrobras said Bolivian natural gas will remain important for energy-hungry Brazil, where demand for that fuel is expected to triple over the next four years, Bolivian daily La Razon reported.
That newspaper cited Petrobras executive Jose Carlos Vilar Amigo as saying natural gas demand in Brazil is expected to climb from a current level of 46 million cubic meters per day to 130 million cubic metres per day by 2014.
He said that projected increase means that Brazil should continue to buy Bolivian gas after 2019, when the countries' current gas-supply contract expires.
"Demand will continue to grow, so Bolivian gas will always be important for us," Vilar Amigo said.
The executive said Bolivian natural gas is necessary because, although Brazil's gas reserves have increased due to recent finds, there is still no production from the new fields.
The most recent significant gas find in Brazil was announced Aug. 12 by oil and natural gas company OGX, which made the discovery at on onshore block in the north-eastern state of Maranhao.
OGX is part of a conglomerate controlled by billionaire Eike Batista, Brazil's richest man, who said the new massive gas field could produce 15 million cmd, or roughly half the natural gas Brazil currently imports from Bolivia.
The contract between Bolivia and Brazil establishes minimum natural gas shipments of 24 million cmd and a maximum total of 31 million cmd.
However Brazilian demand for natural gas has fallen as low as 21 million cmd in 2009, sparking concern in Bolivia and prompting a drop in production of natural gas and liquid fuels in that country.
Brazil attributed that decline to the global recession, which caused a slowdown in industrial activity, and to abundant rainfall that swelled hydroelectric plant reservoirs.
But Brazilian President Lula da Silva has repeatedly assured Bolivia that his country will comply with its obligations under the current natural gas contract.
The Bolivian government, meanwhile, is considering assigning new exploration blocks to Petrobras, which in the southern region of Tarija operates the San Alberto and San Antonio fields – the source of most of the gas shipped to Brazil – as well as three other blocks in Santa Cruz, Chuquisaca and La Paz province.