Falklands, 'a really valuable training' theatre for the £ 75 million Typhoon
Monday, August 23rd 2010 - 21:24 UTC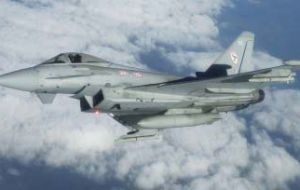 IT'S almost a year since the Typhoon aircraft took up the role of air defence of the Falkland Islands, and their presence is a source of great pride with Falklands' residents. The aircraft, costing in the region of £75 million each, patrol the skies and undertake valuable training on a daily basis.
For the past four months Squadron Leader Steve Pook has been in charge of the aircraft which were flown to the Islands in September 2009 clocking up an historic flight for British aviation. Steve (40) has just completed his sixth and probably final tour on the Falklands, and is proud to have commanded a squadron of the world's most capable swing-role combat aircraft.
Sharon Jaffray from the Penguin News interviews Squadron Leader Steve Pook.
How does flying here compare to elsewhere in the world?

The weather makes it interesting, and can catch us out, as you saw in June when we were diverted to South America. But flying around here is great. There is not much traffic, no controlled air space issues to deal with, apart from the ranges and wildlife sanctuaries which have to be avoided. We get a lot more low level flying here than in UK, which is really valuable training for us. In the UK most of the flying we do is high end and fighting against other aircraft. Here the threat is of a much lower order so that is what we train for. We have some top end limits on winds we can fly in, mainly because if we eject we'll be killed, and of course cross winds for landing, but generally the wind is in the west which is OK for the runway here.
The Typhoon is very agile and uses a lot of lift off the wings, but the downside to that is that it is susceptible to high winds on the runway. However, these are training limitations. Operationally if we have to go, we go.
If you were to plan a scenic flight around the Islands where would you go?
I'd head out over Head of the Bay Brook and into San Carlos. I'd then cross the Sound onto what we call A4 Alley and fly down Coast Ridge. It's beautiful flying down there. And then for pure scenery I'd fly over Weddell Island and the Arch Islands.
The Top Gun movie is famous for the nicknames the American pilots had. Do British pilots have nicknames?
We do, but they are nowhere near as imaginative as the Americans who tend to get theirs when they are passing out because of something they have done. Ours tend to be name related.
Do you give the aircraft names?
Yes. Faith, Hope, Charity and Desperation, for example, and they have personalities too. Despo is the sickly bird in the fleet. If any of them is going to break it will be her. She hasn't flown as much as the others because she does get poorly.
Faith and Hope are the two that went to South America so they were well named, and Charity is a worker, but Despo is my little sickly child.
When did you know you wanted to be a pilot?
I flirted with the idea briefly when I was very young, but I actually wanted to be a geologist. Then I changed my mind as I was approaching 21. My dad was with the Air Force and worked for British Airways, and he said they were crying out for pilots so I thought I would give it a go. I passed their aptitude test and they passed it on to the RAF. I joined the RAF to fly helicopters, but it was at a time when we were reducing
in size and it was fast jet or bust. If you didn't make fast jet you weren't going to be a pilot. Thank goodness for that, because I have had an amazing time.
What qualities do you need to become a fast jet pilot need?
The specific thing is capacity – the ability to deal with a lot of different bits of information while still carrying out the task. In my job the flying is very much secondary. To be honest, anyone could fly a Typhoon, it's a doodle.
The problem comes when you have to start fighting and there's a lot of information thrown at you to deal with; multi-tasking. Confidence is important too. It was when I became confident in my decision making I realised I was probably going to be OK as a fast jet pilot. I had a lot of trouble during basics because I struggled to make a decision. My instructor told me to just make a decision. It didn't matter if it was the right or wrong one because you can always correct it. Just get into the habit of making a decision.
Multi-tasking is most often attributed to women. Are there any female Typhoon pilots?
Just the one at the moment: Helen Seymour, an ex-Tornado pilot. She was here around Christmas time and is a very good pilot.
What advice would you give to a young person who would like to become a pilot?
Go to university and get a degree. You need to be good at and practice mental arithmetic. Not just adding numbers up, but what we call mental dead reckoning. Be able to look at a map and calculate distance and time, etc. Play a lot of computer games for hand eye coordination, which should be very easy for most kids. It's a useful tool, but don't play too many as you have to work and study to get the grades too. Flight simulators are also useful because some of the aptitude tests will have you looking at similar instruments, so getting used to them is a good piece of training. But, most importantly, don't let your education suffer.
Is the Typhoon the best in the world?
Bar the most expensive, the fifth generation American Raptor, the Typhoon, as what we call a fourth generation fighter, is the best.
What gives it that edge?
The Typhoon has power – it's got great engines and of course the air frame. It's highly agile unlike most of the aircraft we have had in the past. Together it means it can carry a lot of stores without degrading the performance of the aircraft. It allows us to fight in the places we want to be able to fight. High or low and fast while carrying a lot of stuff. It turns like crazy and has got loads of power. It's just brilliant.
What's next for you?
This is my last flying job in the RAF. I'm going back to a desk job in September until I leave the Air Force – it's my time so I am moving on. I'm on what's called the career spine and my chances of flying now are reducing. Once you get to a certain rank, flying jobs become fewer and fewer. I'm looking at more and more desk jobs and that is not what I joined the Air Force to do. I'll fly for fun but I am not going to the airlines or anything like that.