China ready to celebrate 30 years of economic success, admits "social debt"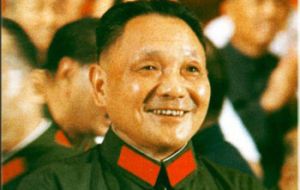 Chinese Premier Wen Jiabao called for implementation of political reform measures during a tour in Shenzhen, the nation's first special economic zone (SEZ) which thirty years ago opened the way for the economic reforms that have helped China become a world power.

Wen's remarks about political reform come three decades after the late Chinese leader Deng Xiaoping first raised the issue during an important speech on August 18, 1980, which was regarded as "the programmatic document for China's political restructuring."

"Without the political reform, China may lose what it has already achieved through economic restructuring and the targets of its modernization drive might not be reached," Wen said, pledging to address the problem of over-concentration of power and ineffective supervision.

After three decades of reform and opening-up, China this year will overtake Japan to become the world's second largest economy, but the country is facing mounting social pressure and unrest given the serious corruption, inequality of distribution and a widening income gap.

In 2009 Beijing earmarked 514 billion Yuan (76 billion US dollars) to maintain stability, much more than the 480 billion Yuan for national defence, according to government reports.

Zhang Liangui, a professor at the Party School of the CPC Central Committee, noted that the root cause of growing social conflict is the slow pace of political reform that seriously lags behind unprecedented economic reform. The consequence is problematic social development along with serious bureaucracy that hinders productivity.

To prevent corruption, the authorities have adopted various new regulations in recent years such as introducing a property declaration system and monitoring of "naked officials" or those whose spouses and children moved overseas.

However, they're not enough to address the growing conflicts, which pose challenges to social stability, Zhang said.

Du Daozheng, former director of the State Press and Publication Administration, said little progress was made in the past three decades and concerns about political risks and competing interests were to blame.

Du argued that political restructuring wouldn't bring chaos to China because most Chinese support the current reform and opening-up policy and they expect a steady life and a government that is honest, transparent, and efficient and which represents their views.

He suggested that political reform should begin with pilot projects in some regions and the first step should be to create an open opinion environment inside the Party and across the country.