Chavez faces the toughest election in his more than 11 years in office
Thursday, August 26th 2010 - 03:16 UTC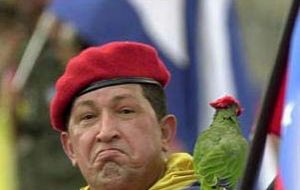 Oil rich Venezuela's September 26 legislative elections campaign was officially launched Wednesday which promise to be a tough test for President Hugo Chavez following a year of recession, growing inflation and rampant crime rate.
Buoyant Chavez supporters organized parties and fireworks around Caracas after midnight to kick off a race dominated by criticism of the government's record on tackling Venezuela's appalling murder rate and handling of the economy.
Struggling opposition parties are all but guaranteed gains in the vote after they boycotted the last election for lawmakers five years ago, leaving parliament entirely in the hands of the president's allies.
The elections, which will also be a barometer of backing for Chavez's policies ahead of a presidential vote in two years, are a chance for opponents to take back a little of the power Chavez has accumulated over more than 11 years in office.
Critics accuse Chavez's government of severe incompetence and corruption, and many people are unhappy that Venezuela's oil-driven economy remains in a recession while all other South American countries are seeing growth. Venezuela's inflation rate, at more than 30%, is the highest in Latin America.
Despite sky-high crime and economic woes, the former paratrooper who has polarized Venezuela between supporters of his Bolivarian-XXI Socialism policies and those who call him a dictator remains Venezuela's most popular politician.
Opposition parties have fielded unity candidates to increase their chances of denting Chavez's grip on parliament. They hope to capitalize on his relative weakness after months fighting crises such as electricity cuts and a scandal over rotting food that dragged his ratings below 50% for the first time.
"This is his worst moment in 11 years" anti-Chavez newspaper editor Teodoro Petkoff said. "But his emotional link with a large sector of the nation remains very powerful".
Most analysts expect Chavez's coalition to hold a reduced majority in parliament helped by changes to electoral districts that critics call gerrymandering. There is a slim chance the opposition will win the most seats, which would create headaches for Chavez and cause political instability.
Their goal is to win at least a third of seats in the legislature, which would limit the ability of Chavez's party to change major legislation.
Usually an expert at setting the political agenda, especially ahead of elections, Chavez seems to have been caught off balance by a campaign from opposition media to highlight the government's failure to tackle violent crime.
Venezuela has one of the world's highest murder rates with between 13,000 and 16,000 people killed last year according to leaked police numbers and a non-governmental watchdog, respectively. Already-high murder figures have soared since Chavez took office.
Last week a court ordered two newspapers to desist from publishing violent pictures after they printed a gory archive photo of bodies piled up in a morgue.
The government, which also responded angrily to a New York Times story comparing Venezuela violence to Iraq, says it is working hard to bring down crime and that a new national police force has slashed homicide rates in a Caracas pilot project.
Chavez, who has lost just one of over a dozen elections since 1998, says he is a democrat committed to freeing Venezuela from U.S. "imperialism" and local oligarchs.
A survey by the Venezuelan polling firm Consultores 21 indicates just 36% of Venezuelans approve of Chavez's performance, the lowest figure since 2003, when Chavez survived an opposition-led strike that devastated the economy, pollster Saul Cabrera said.
The survey of 1,500 people nationwide in late June and early July had a margin of error of plus or minus 2 percentage points, said Cabrera, who is vice president of the polling firm. He said the poll was financed by a group of private businesses, which he declined to identify.