Mercosur spends less that 2% of GDP in defence; "no arms race in the region"
Thursday, August 26th 2010 - 03:41 UTC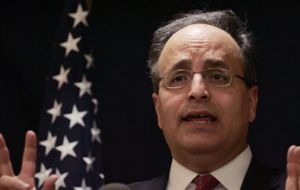 South America and particularly Mercosur spend less than 2% of GDP in military hardware which makes it the world region that less invests in defence, said a high ranking official from the Barak Obama administration visiting Paraguay.
"We see no arms race in the region. Overall South America and Mercosur are the regions that spend less on defence issues", according to Frank Mora, Deputy Assistant Secretary of Defence for Western Hemisphere Affairs on an official visit to Paraguay, Mora on Wednesday met with President Fernando Lugo and later with journalists for a brief press conference.
When asked specifically about an arms race in the region, Mora admitted that some countries are modernizing their equipment, "and we see this as something positive".
Some sectors in Paraguay are concerned about defence spending by neighbouring Bolivia reinforcing its border area, and particularly with Venezuela, which has become a close ally of Bolivian president Evo Morales.
"As long as the process is transparent we are not worried. It's important for countries in the region to target confidence building" said Mora who mentioned Brazil (a Paraguayan neighbour) as an example to follow.
"The government of President Lula da Silva published its defence strategy, which is something very positive", said Mora who insisted that South America and Mercosur are the regions in the world which less spend in defence, below 2% of GDP.
Mora said that the US is interested in strengthening the good defence collaboration and links with Paraguay.
"As president Obama said, Paraguay is one of those countries with which we want to keep a bilateral relation in defence issues", underlined Mora who revealed that the US supports Paraguayan military with training programs, civil defence and catastrophe cooperation plus on the field medical support for the local population.
Mora is scheduled to remain in Paraguay until next Saturday and will be meeting with the recently appointed Defence minister Cecilio Perez Bordon who replaced Luis Barreiro Spaini. The ousted minister had several serious clashes with US ambassador in Asunción, Lilana Ayalde.