Cuba promotes luxury golf courses by giving state-land for 99 years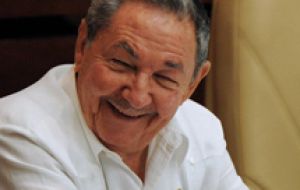 The cash-strapped Cuban government will allow foreign investors to use state-owned land for up to 99 years in a change that is likely to bring developments of luxury golf courses to the communist island.
The new law, published in the Official Gazette on Thursday, was said to be aimed at "facilitating the process of participation of foreign investment in international tourism" by giving "greater security and guarantee to the foreign investor in the real estate business."
Cuban authorities have said that a dozen or so golf developments are under consideration as they seek ways to boost tourist revenues for the fragile economy. Before the legal change, which was decreed in July but not announced until Thursday, Cuban law permitted use of state lands for 50 years. Most land in Cuba belongs to the government.
Foreign investors who have proposed the golf developments say the 99-year limit is necessary to attract buyers and make their projects, which will feature course-side homes, financially viable.
Cuba, which discouraged the sport after the 1959 revolution, has only two golf courses. Cuba attracted about 2.4 million tourists last year, and is hoping golf will bring wealthier visitors to the island.
Officials are also planning for the day when the United States, 145 km away, ends its longstanding ban on travel to Cuba. Legislation is pending in the U.S. Congress that would lift the ban that is part of the 48-year-old U.S. trade embargo against Cuba.
President Raul Castro has undertaken various reforms to improve the Cuban economy. Earlier this month, he told the national parliament that the government would grant more licenses for people to operate small businesses.
In another decree published in the Official Gazette on Thursday, the government said it would allow small-time private vendors to sell agricultural products from roadside stands. The concept has been in use in some parts of the country since last year, but now is official national policy.
In related news New Mexico Governor Bill Richardson is expected to leave Havana on Friday after a series of meetings with Cuban officials, including the country's foreign minister.
Richardson's trip, which began Sunday, was a trade mission to bolster agricultural sales, but he also pursued another goal: bringing about the release of jailed U.S. contractor Alan Gross.
Gross has been held in a Havana jail since December on suspicion of spying, although no charges have been formally brought against him.
President Raul Castro said Gross was illegally distributing satellite communications equipment and has linked him to clandestine U.S. operations on the island nation.
Richardson said the U.S. State Department has asked him to press the Gross case with Cuban officials.
"What I'm mainly doing is trying to get salsa, nuts, and green chili from New Mexico sold here [in Cuba], but I am pressing. I was asked to do this," he said. "Alan Gross, I believe, is somebody that should be allowed to go home."
Richardson added that he believes he made "inroads" with the Cuban government toward securing Gross' freedom, but is also facing a sensitive investigatory process surrounding his arrest.
The New Mexico governor speaks fluent Spanish and has previously met with former Cuban President Fidel Castro, negotiating the release of three political prisoners in 1996.
In an interview with CNN, Richardson called on the Obama administration to further relax U.S. travel restrictions to Cuba.
"I've always felt that travel helps ease relationships," Richardson said, remarking on the potential easing of restrictions. "I don't think the embargo is working."
But Cuba hardliners in Florida and New Jersey warn against the effects of loosening restrictions on travel and economic aid to Cuba, and have asked President Barack Obama to reconsider.