Soaring profits in first half of 2010 for the Chilean mining industry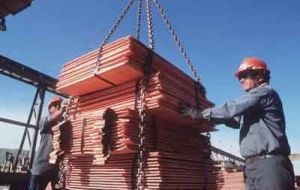 The Chilean mining industry has ridden the wave of rising copper prices to record major profit increases in the first half of 2010, with three important mining conglomerates showing profits of US$4 billion in that time period.
In northern Chile, the Escondida mine, owned by the British-Australian company BHP Billiton, recorded net profits of US$1.6 billion between January and June, which represents an increase of around 53% since the last trimester, when its net profits were US$1 billion.
In the first six months, the mine saw a 37.8% increase in sales-related profit – a jump from US$2.7 billion to US$3.7 billion. It produced 526,020 metric tons of copper, which is only a 1 percent increase in production.
BHP Billiton had to pay US$413.4 million in royalties, a sum that represents an increase of 52.6%t compared with the same time period last year, at US$271 million.
The mining group Antofagasta Minerals SA, owned by the Luksic family, also had considerable profit increases. The net profit US$451.2 million for the first quarter was a 91.4% increase compared with the last quarter of 2009.
The total royalty taxes that Antofagasta Minerals paid to the Chilean government also went up, from US$18.7 million to US$37.1 million. By June, the mining group had mined 252,900 tons of copper, and the projection for the rest of the year was estimated at 530,000 tons of fine copper.
"We've had a solid first semester," said Marcelo Awad, president of the Luksic mining branch. "With the beginning of operations in the expansion of Los Pelambres [mine] we have increased production, and the prices have behaved as expected."
Last weekend, an accident at Los Pelambres killed a 47-year-old mechanic.
Similarly, the state-run copper company CODELCO estimated profits at around US$2 billion for the first trimester, a considerable leap since the US$525 million in the last trimester of 2009.
The copper price fluctuations have been favourable for the mining industry. The median price was US$3.23 to the pound for the first trimester of 2010, a significant increase since the previous trimester, which had a median price of US$1.84 to the pound.
By Ricardo Pommer – Santiago Times