US economy slows more sharply that expected in the second quarter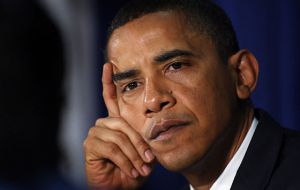 US economic growth slowed more sharply than initially thought in the second quarter, held back by the largest increase in imports in 26 years, a government report showed. GDP expanded at a 1.6% annual rate, the Commerce Department said, instead of 2.4% percent pace it had estimated last month.
However, the reading was a touch better than market expectations. Analysts had forecast GDP, which measures total goods and services output within US borders, revised down to a 1.4% growth rate. The economy grew at a 3.7% pace in the first three months of the year.
The slackening economic recovery is a major political challenge for the Obama administration and the Democratic Party two months away from crucial mid-term elections that could shift the balance of power in Congress in favour of Republicans.
The revised GDP data will likely fuel analysts' concern that slowing growth is putting the economy at growing risk of slipping back into recession. Federal Reserve policymakers were meeting at their annual retreat in Wyoming to ponder the economy's direction and hear from Fed Chairman Ben Bernanke.
"There is no doubt we are losing momentum in the economic recovery," said Robert Dye, senior economist at PNC Financial Services in Pittsburgh. "But if we define recession as two or more consecutive declining quarters of GDP, I think we are not going to go there.
"We are going to see a pattern where we may have declining GDP in one quarter followed by smaller gains in the next quarter, bouncing along the bottom as it were," Dye said.
The recovery from the worst economic downturn since the Great Depression had been largely fuelled by a 862 billion USD government stimulus package and businesses rebuilding inventories from record low levels.