Timerman expected in Montevideo to coordinate monitoring of River Uruguay
Monday, August 30th 2010 - 06:36 UTC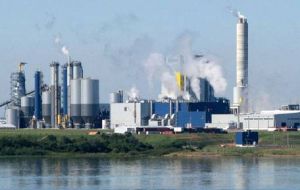 Argentine Foreign Affairs Minister Héctor Timerman will meet Monday in Montevideo with his Uruguayan counterpart, Luis Almagro, to advance with the implementation of the scientific committee that will monitor the UPM (ex Botnia) pulp mill and the River Uruguay.
The proceeding is part of the agreement signed by Presidents Cristina Fernández de Kirchner and Uruguay's José Mujica on July 28 to end the several years dispute over the construction of pulp mills along the River Uruguay.
On the Argentine side the committee includes Juan Carlos Colombo, who has a doctorate in chemistry, and engineer William Stephen Lyons, whom were appointed by the Foreign Ministry on Friday.
Along with two scientists chosen by the Uruguayan government, Colombo and Lyons will be responsible for controlling the River Uruguay and all industrial, agricultural and urban centres that turn their effluent into the river's waters.
The monitoring committee will begin its activities at the UPM pulp mill and the mouth of the Gualeguaychú river. The monitoring missions will then continue in Argentina in a spot that will be chosen by Uruguayan and will then continue alternately in either country.
In September 2009, Colombo joined the Argentine delegation that travelled to the hearings held in the International Court of Justice in Hague, where as a researcher responsible for Biogeochemical aspects of the Environmental Monitoring Plan of the River Uruguay, was the coordinator and in charge of presenting the scientific arguments presented by the Argentine government before the court.
Meanwhile, Lyons specializes in Sanitary Engineering, and is also responsible for the Environmental Monitoring Plan of the River Uruguay. In January of 2009, Lyons was appointed as head of the Environmental Control National Direction, which reports to the Environment and Sustainable Development Secretariat.
In September last year, he also joined the Argentine delegation in Hague as an adviser to the Administrative Commission of the River Uruguay (CARU).
In Montevideo Minister Almagro said that the monitoring rounds could begin in less than two months time, following the naming of the two Uruguayan scientists for the bi-national team.
The two Uruguayan scientists are Eugenio Lorenzo, who until last week president of CARU and Alberto Nieto a former Dean of Uruguay's Chemistry School.
Meanwhile Argentine pickets announed last week following an assembly that they will be organizing during September Sundays caravans of automobiles to protest the UPM/Botnia plant which they insist contaminates and want re-located.
They belong to the same group of organized pickets prevented all traffic across a bridge linking Argentina with Uruguay since 2006.