Cristina Kirchner, puppet of her raging husband
Tuesday, September 7th 2010 - 05:06 UTC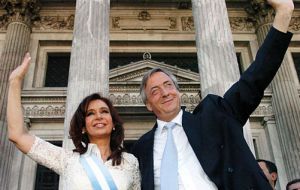 Life in the pink palace of Argentina's ruling couple is no bed of roses, says a new biography of President Cristina Kirchner. It portrays her as the puppet of an authoritarian husband who once punched her in the face for defying his will.
The book, by prominent journalist Sylvina Walger, describes Nestor Kirchner, the former leader, as a "parallel president" who takes all the important decisions for Cristina and flies into a fury if she disobeys him.
A claim that she needed medical treatment after he allegedly struck her in 2008 has thrown the spotlight on a "riotous matrimonial relationship" based less on love than a plan for them to hold power for eight more years.
"All that's left of that marriage is the question of how to divide the spoils of power," says Walger.
The book has provoked outrage among Kirchner supporters, who dismiss it as a crude, politically motivated smear.
It has probably not helped the mood in the Casa Rosada, the presidential palace in Buenos Aires. After two years of dwindling public support, the Kirchners and their Front for Victory coalition have recently enjoyed a bump in the polls as Latin America's third-largest economy roars back to life.
Walger's unflattering portrayal of Nestor Kirchner will thrill political opponents, who regard with horror his prospect of winning a second term in next year's elections. He is described in the book as "mean, petty, vengeful and envious".
Despite the couple's claims to have a relationship based on "equality", Walger insists Nestor "is the one wearing the trousers".
"The real president is Nestor. He is the one taking all the important decisions. She does everything he tells her."
The book, From Legislator to Fashion President, presents Cristina - like her husband, a leading light of the Peronist movement - as being obsessed with her appearance, changing her outfit three times a day.
Sometimes described as "the new Evita" after Eva Peron, the popular second wife of the former president Juan Peron, Cristina has a particular weakness for jewellery and expensive lizard skin or crocodile handbags by French fashion designers.
One reason she goes on so many foreign trips, says Walger, is to scout for mansions for the couple's eventual retirement.
Breaking a taboo of silence about the private lives of the Kirchners, Walger claims both Cristina, 57, and Nestor, 60, have had affairs.
He was a little-known Patagonian governor when he won the presidency in 2003. Thanks to booming Chinese demand for Argentine soy beans, the country soon began to recover from the economic collapse it suffered in 2001.
The Kirchners have certainly prospered. The 600% growth in their personal fortune, to almost 12 million USD, since 2003 has prompted allegations of corruption since their combined annual income as President and former president is only $157,000. Opposition leaders have accused the couple of using inside information to engage in currency speculation.
The Kirchners own a luxury hotel and other businesses in the Patagonian resort of El Calafate and, according to Walger, a former Peronist militant, they also have 19 houses and 14 flats.
Nestor is widely believed to have engineered the presidential candidacy of his wife, a former senator for Buenos Aires province, in 2007 on the understanding that she would keep the seat warm for his return next year.
But a few months after she took office, she became embroiled in a bruising conflict with farmers over a plan to raise taxes on soya exports. When Vice-President Julio Cobos cast a deciding vote against the government bill on July 17, 2008, Nestor urged his wife to resign, writes Walger. She refused.
"The parallel president then dealt her a sonorous punch. It was a serious blow and she had to be taken away to be treated by doctors." The Kirchners have not denied Walger's account, but if true they would be enough to raise doubts about whether the country can go on calling Nestor "its first gentleman". (The Sunday Times)

- The article written by Matthew Campbell was first published in the Sunday Times and later reproduced in several other newspapers.