Invasive "killer shrimp" discovered at water reservoirs in England
Friday, September 10th 2010 - 03:28 UTC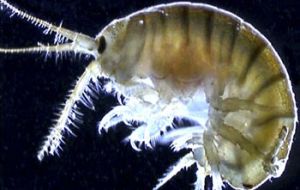 A killer shrimp has been found for the first time in the UK at an Anglian Water reservoir in Cambridgeshire, England. Two anglers spotted the shrimp, which can be as small as three mm, at Grafham Water near St Neots on Friday September 3 and sent samples to the Environment Agency for identification.
The Environmental Agency worked immediately with Anglian Water to put precautionary bio-security measures in place and their fears were confirmed when a Dutch expert ratified that the species was indeed the deadly shrimp.
Richard Benyon, Department for Environmental, Food and Rural Affairs Minister, said: "I am extremely concerned to hear that this highly invasive species has been found in Britain.
"We need to do everything we can to protect our native wildlife and young fish from the potential damage the killer shrimp can cause."
The Dikerogammarus villosus, more commonly known as the 'killer shrimp', has already colonized parts of Western Europe and kills a range of native species such as freshwater invertebrates, native shrimps and even young fish.
This alters the ecology of the habitats that the dominant shrimp, which often kills its prey and leaves it uneaten, invades.
Dr Geoff Brighty from the Environment Agency said: "We are devastated that this shrimp has been found in Britain and are very grateful to the keen-eyed anglers who found it.
"We are currently establishing the degree of the problem to see whether the shrimp is only in Grafham Water or if it is in nearby lakes and the Great Ouse as well."
The shrimp poses no risk to drinking water supplies and recreational activities are still allowed even though analysis at Grafham Water continues. Ciaran Nelson from Anglian Water said: "We are asking all water users at Grafham to take the actions asked of them on-site.
"This includes checking their equipment for shrimp when they leave the water and removing any that they find. They should also ensure their equipment is thoroughly cleaned and dried before it is put into any other water."