Kirchner cabinet refutes FT report: no IMF revision of Argentine economy
Friday, September 10th 2010 - 04:31 UTC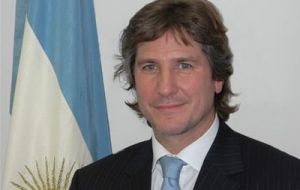 Argentina is still opposed to having its economy reviewed by the International Monetary Fund (IMF), government ministers said on Thursday, refuting recent media reports to the contrary.
Argentina has barred the IMF from doing its annual "Article IV" revision since 2006, arguing the IMF's actions helped precipitate the country's worst-ever economic crisis in 2001-02.
A fresh review is seen as key for the country to strike a deal to repay some 7 billion USD in defaulted debt to the Paris Club of creditor nations.
Asked if the government was willing to accept the routine IMF review, Economy Minister Amado Boudou responded: "No, no. Argentina had a very bad time when the Fund was involved in its policies."
"All Argentines know what the IMF monitoring has meant for our economy," Boudou told local TV. Boudou reiterated that the country has no intention of seeking loans from the IMF.
"We don't need them to lend us money. We don't accept the conditions" that could be imposed under a loan agreement, he added.
Cabinet Chief Anibal Fernandez was quoted as telling the state news agency Telam the government was not willing to accept the economic review, but was committed to resolving its debt with the Paris Club.
The ministers spoke a day after the Financial Times quoted an unnamed senior official as saying President Cristina Kirchner's administration was ready to accept the review, which is conducted with the Fund's 186 member states.
IMF spokeswoman Caroline Atkinson told Argentine financial daily Ambito Financiero that while there were "regular contacts" between the Fund and Argentina's government, the IMF had no plans to send an official mission to the country.
Local media have reported that government officials are divided over whether to try to mend fences with the IMF to refinance the Paris Club debt and further improve the country's access to international financing following a 12.3 billion USD swap of defaulted debt earlier this year.
The other option would be for Argentina to use its international reserves to pay off the entire debt, as it did with the IMF in 2006. But Boudou has downplayed that possibility in recent months.