Falklands challenge is Argentina's 'desire to steal what is ours'
Monday, September 13th 2010 - 18:15 UTC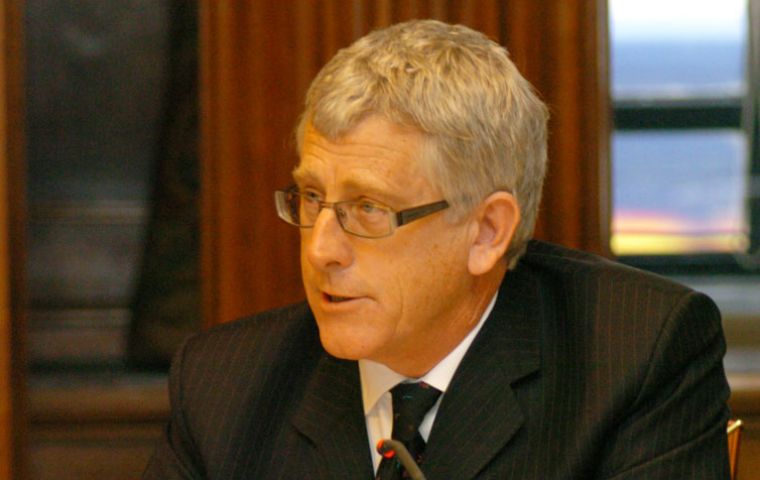 A member of the Falkland Islands Legislative Council rebutted historical claims made by Argentina over the Islands in a speech to the Commonwealth Parliamentary Association in Kenya this week, adding that the challenge Falkland Islanders face is Argentina's "simple desire to steal what is ours."
Member of Legislative Council Dick Sawle told Falklands' media that during the two day small states conference, "Thanks to much hard work and research by Peter Pepper and Graham Pascoe, the speech also went through some detail of the expulsion myth proposed by Argentina. The historical falsehoods stated and repeated many times in 1964 at the UN by Argentina have been proved to be exactly that. Any claim based as it was on false historical 'evidence' is meaningless."
Around 30 to 40 small state members of the CPA attend the conference.
MLA Sawle said, "For the Falklands, this was an important chance to state our case clearly and while the CPA itself is not a body that can pass resolutions, it is nevertheless the second largest body of political opinion after the United Nations. For the Falkland Islands, it is therefore a very important conduit in which we can express our views and hope to influence decision makers who represent over 2 billion people in the world."
He said the speech itself was well received and covered some of the key issues of sovereignty in general and the challenges that many small states face from threats to their sovereignty.
The speech aimed to define what sovereignty means – how it came about in historical terms and what it means in a modern democratic society. There was emphasis placed on the difference between the desire to own a small state which is achieved through subjugation and control by fear and force – inevitably leading to conflict, and sovereignty which is achieved through the desire for democracy propelled by self-determination.
"There is an important point here," said MLA Sawle, "which is that the authority invested in a sovereign power has to be desired by those governed by it in order for it to have the respect that thereby leads to the acceptance by the people of their duty to obey the sovereign system of governance. Sovereignty in a modern democratic society cannot therefore be forced upon a small state."
The speech noted the UN Charter with its mention of 'respect for the principle of equal rights and self-determination of peoples,' and UN resolution 1514 elaborates further on that principle stating that 'all peoples have the right to self-determination; by virtue of that right they freely determine their political status and freely pursue their economic, social and cultural development.'
MLA Sawle said, "But a crucial point agreed by the UN 4th Committee in 2008 was that any dispute over sovereignty should not affect self-determination which is a fundamental human right."
He said the speech was well received and there was a lively debate afterwards. Gibraltar discussed their own problems with Spain, and Malta called on large organisations such as the CPA to assist.
Bermuda called for negotiation over the Falklands/Argentina situation, but it was pointed out that self-determination and democracy are not principles that can be negotiated. MLA Sawle said negotiation implies acceptance of a compromise and in the case of a claim based on historical falsehoods, there is nothing to compromise.
Some delegates agreed that it was more a case of Argentine national pride at stake than any valid claim. One delegate referred to mediation as "rot – it's just a conspiracy" and said that "joint sovereignty is like claiming to be half pregnant ' – it simply doesn't exist."
MLA Sawle concluded that the challenge that Islanders face from Argentina, "is a simple desire to steal what is ours and to subjugate a fiercely independent people to an authority that we do not admire, respect, desire, envy or want."
MLA Sawle concluded, "The plea was made for delegates to understand more fully our case and take our views and our position with them when they attend conferences and to speak out on our behalf. It will never be a speedy process but changing opinions and winning friends is something to which we must always dedicate time, effort and cost. To ignore these opportunities is to lose position and influence."
By Lisa Watson - SeAled PR - Stanley