Venezuelan government airline grounds all flights for technical review of fleet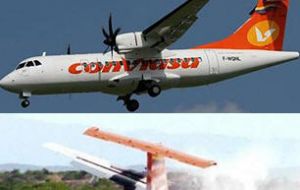 The government-owned Venezuelan airline involved in a fatal a plane crash Monday in which 16 people were killed has grounded all flights Friday for 14 days to perform a technical review of its fleet, the Conviasa airline announced.
Conviasa Flight 2350 was en route from Isla Margarita to Guayana when it crashed Monday in southeastern Venezuela. Thirty-six people on board the flight survived the crash, which occurred about 6 miles (10 km) from the Guayana airport.
Another Conviasa flight was involved in an emergency landing Thursday when one if its engines failed, local news reports said. No one was injured.
Anyone with Conviasa tickets during the fleet's grounding will be reassigned to other companies in order to lessen the delays and inconvenience, the airline said in a release Thursday.
In addition, Conviasa said, special attention will be given to the emotional health of the airline's employees, especially flight crews.
The aircraft that crashed Monday was an ATR42, a twin-turboprop, short-haul airplane built in France and Italy. The cause of the crash remained under investigation.