Women "guardians" to look after Chavez and ensure victory on September 26
Saturday, September 18th 2010 - 03:41 UTC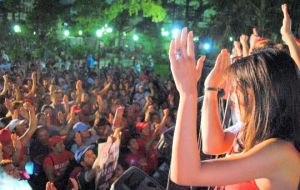 With less than ten days to crucial legislative elections Venezuelan president Hugo Chavez took the oath to the "Guardians of Chavez" a group of women tasked with the mission of defending the Bolivarian revolution and the permanence of the populist leader in office.
"Chavez is equivalent to Socialist revolution: that is what must make you vigilant. You must be the guardians of that because my dear guardians, really my guardians because so many women can't be mine", said Chavez at the taking the oath ceremony which was aired in national television.
"You, my dear friends have to be on the watch out for Socialism, on the watch out for revolution, for the performance of the revolutionary government, vigilant, vigilant!! The warning on time from a guardian can save the motherland", he emphasised.
Chavez cautioned the Guardians they must be vigilant not only "with the enemy from outside but also the enemy within our own revolution cadres", to alert on the possible shortcomings or failures of the revolution's programs.
Further on during the ceremony Chavez called on the group of women guardians not to rest their souls until victory in the coming September 26 legislative elections and following on that "with the historic and definitive victory" of the revolution.
Next September 26, Venezuelans will be electing the 165 members of a new National Assembly which takes office January 2011.
The election is crucial for the opposition since in 2005 it boycotted the event alleging 'electoral fraud" handing the legislative to Chavez. Now however opinion polls show growing discontent not necessarily with President Chavez but with his policies and such every day issues as crime and insecurity, staples scarcity and inflation.
This means the opposition has a chance of winning in the most populated provinces, while Chavez party would retain the less populated.
September 26 is also seen as a test in advance of the 2012 election when Chavez will again be running for re-re-re-election.
"I beg of you to be on watch, on permanent watch for the interests of the Socialist motherland, of the revolutionary motherland…and that we address with that spirit this first battle of the 26th, when we can't loose a single vote", said Chavez.
Later in the day during a political rally in a Caracas theatre Chavez said he was convinced of winning most of the two thirds of the National Assembly, which he needs to ensure swift approval of his revolutionary program.
Chavez also referred to the some comments published by U.S. daily "New Herald," which said that Chavez's "aggressive campaign obscures the hopes of the opposition".
Answering this, Chavez said "we are going to demolish them! This victory on coming Sunday 26 will be the prelude of what will happen two years later in December 2012" when Venezuela will be holding general elections.